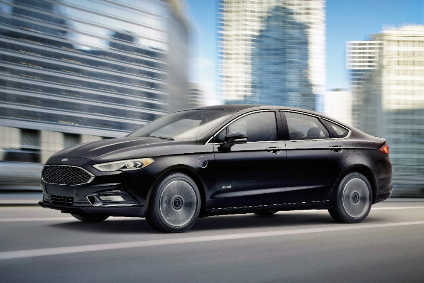 A major plank of Ford's electrification strategy in the US is its hybrid range and it claims the latest Fusion hybrid model has a range of 610 miles on a full tank of petrol plus a full battery charge.
It claims the range figure for the new 2017 Fusion Energi is the highest combined range of any plug-in hybrid on the market in America. The new model has 60 miles more range than its predecessor.
Ford offers six electrified vehicles and is the No. 1 seller of plug-in hybrids in US. It is investing US$4.5bn to add 13 new ones to its product portfolio by 2020; more than 40% of Ford's nameplates globally will be electrified by the end of this decade, the company says.
"Plug-in hybrids are electric vehicles until you run down the battery," said Wade Jackson, marketing manager for Ford Fusion, "then they work exactly like a conventional hybrid. Fusion Energi – with a full battery and a full tank of gas – can go from San Diego, through Los Angeles and all the way up to San Francisco, and still have up to 110 miles of range remaining."
The company says that changes to the car's hybrid powertrain software and regenerative braking mean the 2017 Fusion Energi can travel up to 610 miles on a full tank of gas and battery charge – up from 550 miles for the 2016 model.
Since introducing the plug-in hybrid vehicle in 2013, Ford has sold nearly 30,000 Fusion Energi cars in the United States. Fusion Energi is one of six Ford Motor Company electrified vehicles, including Ford Fusion Hybrid, C-MAX Hybrid, C-MAX Energi, Focus Electric and Lincoln MKZ Hybrid.