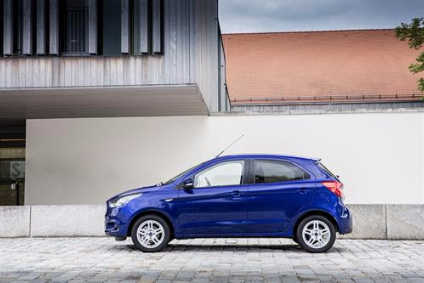 Ford has revealed a KA+ model for Europe positioned below the Fiesta in the marketplace. The rationale behind the model is to meet demand for low-cost vehicles in an increasingly fragmented European B-segment.
The European KA+ will be produced at Ford's Sanand, India, plant and has been engineered for low-cost and maximum utility, contrasting with Ford's latest efforts to add sporty and premium spec elements to the Fiesta.
Ford says the KA+ cabin provides space for five passengers with class-leading front headroom and rear legroom, plus 21 stowage locations, within a sub-4 metre total vehicle length.
It will also be offered with a new 1.2-litre Duratec petrol engine with 114 g/km CO2 emissions and 5.0 l/100 km (56.5 mpg) fuel efficiency
It will come with a price point starting at just EUR9,995 in Germany and GBP8,995 in UK.
"Ford has a proud history of offering affordable small cars that are practical, economical and fun-to-drive," said Jim Farley, executive vice president and president, Europe, Middle East and Africa, Ford Motor Company. "KA+ is true to that tradition, packing a huge amount into a compact car that delivers agile driving dynamics and a surprisingly roomy cabin at an affordable price."
Ford believes the "+" in the name means it will appeal to many existing Ka owners who will see it as offering more. However, a major part of the thinking is to appeal to new customers who want a bigger car in a value-driven package. Competitors will include models such as the budget Dacia Sandero and Kia Rio.
The starting point for the car's development (the previous Ka model was on an architecture shared with Fiat) was Ford's global B-car platform, said Darren Palmer, small car vehicle line director, Ford of Europe, speaking at a media briefing event in Cologne. "KA+ was developed as a global small car vehicle using Ford's international development resource led by our team based in South America. They were supported by a team in Europe who ensured it would have Ford DNA and is as much fun to drive as today's Fiesta. It has features and attributes tailored to the needs of car buyers in Europe."
Palmer also said that related models have been launched successfully in Brazil and India. In Europe it will be offered primarily as 5-door hatchback, though a 4-door sedan version will be offered in Eastern Europe and Turkey.