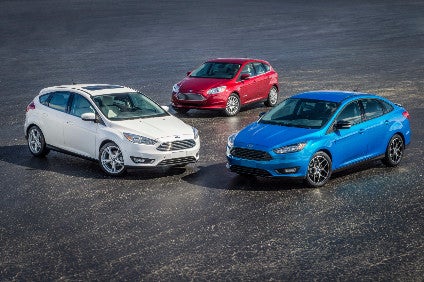 Ford said it would boost its competitiveness by spending US$1.6bn on a new small car plant in in San Luis Potosi state, Mexico.
Construction begins this summer and the new plant will create 2,800 additional direct jobs by 2020.
Vehicles to be produced will be announced later.
This is Ford's 91st year in Mexico where it has made vehicles since 1925 and currently has 116 dealers.
Mexico is the automaker's fourth largest vehicle manufacturing country behind the US, China and Germany. Vehicles produced in Mexico are exported to the US, Canada, China, Argentina, Bolivia, Brazil, Colombia, Chile, Paraguay, Peru, Uruguay and South Korea.
The latest spend is part of the company's One Ford global product and manufacturing plan. During the past five years, it has spent around $10.2bn on factories in the US alone. Additional spending included $2.7bn in facilities and supplier tooling at Valencia in Spain (following the closure of a plant in Belgium), $2.4bn in Germany and – with local joint venture partners – $4.8bn in China.
"All of these investments are part of the company's plan to serve global markets and deliver profitable growth," the automaker said.
The announcement immediately drew flak from a prominent presidential candidate. According to Reuters, Republican nominee front-runner Donald Trump labeled the move "an absolute disgrace."
"These ridiculous, job crushing transactions will not happen when I am president," the real estate billionaire said in a statement released by his headquarters.
Reuters said Ford stood by comments on the issue made two weeks ago by its chief executive, Mark Fields, who said the company would not back down on its production strategy.
"We are a global, multinational company and we will invest to keep us competitive and we will do what makes sense for the business," Fields said.
Trump, who has criticised US companies for "sending jobs to Mexico," has singled out Ford for some of his harshest remarks, Reuters noted. But data cited by the news agency indicated that Ford builds fewer vehicles and employs fewer workers in Mexico than Detroit-based rivals General Motors and Fiat Chrysler Automobiles' Chrysler.
In the United States, Ford has 55,300 hourly paid plant workers, GM has 54,000 and FCA has 36,600, the companies told Reuters. GM has about 12,000 hourly paid workers in Mexico, while FCA has 9,547 and Ford has 6,191, they said on Tuesday.
According to the report, citing IHS Automotive, in 2015, 80% of Ford's North American production came from US plants while 63% of GM's North American production came from the US plants and 64 percent of FCA's North American production from US plants.
A senior Mexican official told Reuters Mexico had stepped back from a high-profile announcement on the Ford plant to avoid stoking tensions in the US election debate stemming from Trump's comments. [Trump has promised to build a wall to stop illegal immigration from Mexico, at that country's expense – ed]
"Due to the (election) debate, they (Ford) don't want to be in the spotlight," the official told Reuters, speaking on condition of anonymity.
Citing Mexican sources, Reuters has reported the Ford plans in January. The Wall Street Journal also reported on the plans.
Joe Hinrichs, Ford executive vice president and head of the Americas, said the automaker was investing more money in Mexico "to improve our small-car profitability."
In Detroit, according to Reuters, United Auto Workers president Dennis Williams described the new Ford investment in Mexico as "a disappointment and very troubling".
Hinrichs declined to say which products Ford plans to build at the San Luis Potosi plant but US supplier sources have told Reuters the plant is expected to build the next-generation Ford Focus as well as a Focus-based hybrid petrol-electric model aimed at Toyota and described as a "Prius fighter".
Reuters noted Ford is joining a growing list of automakers investing billions in new production capacity in Mexico where lower labour costs and favourable currency exchange mean companies have a better chance of making a profit on low-margin small cars.
Mexico's numerous international free trade agreements allow for more profitable exports from Mexico to many countries, Sean McAlinden, chief economist with the Center for Automotive Research, told Reuters.
McAlinden said Ford's Mexico workers make about $8.25 per hour in wages and benefits, compared with Ford's US workers, who get $60 per hour in wages and benefits.
During contract talks last summer, Ford confirmed that it would move Focus production out of its Wayne, Michigan plant in 2018. The UAW said at the time that Ford planned to build the next Focus in Mexico.
Hinrichs on Tuesday reiterated that Ford is planning to build two new vehicles at the Wayne plant, beginning in 2018, but declined to provide details.