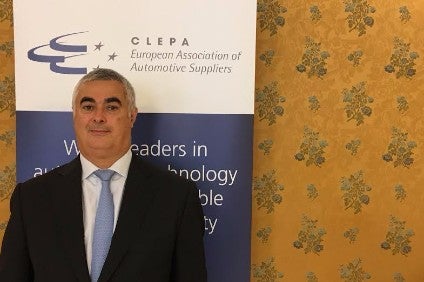 France's automotive supplier association, FIEV, says it backs President Emmanuel Macron's stance on labour reform, although the proposals are likely to stir up union resentment.
Macron had barely been inaugurated as President when unions unhappy at his proposals to relax labour rules thought to include ease of employing and sacking workers as well as individual rather than collective bargaining, took to the streets of Paris to vent their anger, but there are many in France, FIEV included, who welcome the new approach.
"We understand on labour law he [Macron] has taken a tough stance and we support him 200%," FIEV CEO, Jacques Mauge told just-auto on the sidelines of European automotive supplier body, CLEPA's annual Innovation Awards in Rome. "We believe there will be a need for change – I totally believe there is a chance. Even with [former President] Hollande, let's say in a latter stage, [he] was capable of making a breakthrough for what France needed to do.
"I think those demonstrations we see in the streets are coming from the past. I hope people have evolved. There will be some demonstrations, some unrest, but I believe, I hope, limited. The change is so brutal anything could happen.
"At least something positive came out of it [election] with Macron."
From never previously being formally elected – Macron was appointed Minister of Industry by François Hollande – the new President has stormed from having no party at all to now commanding a significant majority in Parliament – while at the same time seeing traditional left and right politics completely turned on its head.
Prior to the Presidential election, which saw Macron emerge with a significant victory against Marine Le Pen in the second round, FIEV, (Fédération des Industries des Équipements pour Véhicules) wrote to all candidates with a 14-point plan for the automotive sector as it looks to embrace new mobility solutions.
"Technologies will disturb all what is established today, the question is how we can adapt," added Mauge. "The agenda of FIEV is to help my members to adapt to these brutal changes – a lot more tricky [is] how to get the best benefits from those changes.
"We need to communicate more because the image of automotive has been damaged by environment and energy [questions]. We have to make a lot of effort in terms of communication to show the real nature of our industry. We know Macron will listen to half of them [14 points in letter] – let's see how he moves."
The FIEV chief met Macron when he was formerly Industry Minister and shortly before the election, but the new President is already starting to ruffle union feathers with his talk of labour reform, a subject rarely off France's political agenda.
"Macron is extremely lucky – talented but also very lucky," noted Mauge.
During the Presidential election, Le Pen made much of her wish to see a form of protectionism for domestic French industry, which she labelled "economic patriotism, intelligent patriotism," but the FIEV CEO expressed firm views this was not the right policy for manufacturing.
"Protectionism works well for industry at the beginning, [but] it is not the solution – it is the wrong path," said Mauge. "We see it in the US, protectionism is what [Donald] Trump wanted to do, but in the medium term it does not work. My members are world class companies – we know it does not work.
"We need to create value, we need to export and our industry is still ill [from] lack of export."
The FIEV head also said he 'hated' the idea of the UK leaving the European Union, insisting it was a bad move for Britain, France and the Continent, but expressed the hope negotiations currently under way between London and Brussels would prove fruitful.
Macron is due to address both houses of France's Parliament today (3 July) in the Palace of Versailles, at which he may outline some concrete proposals for labour reform.