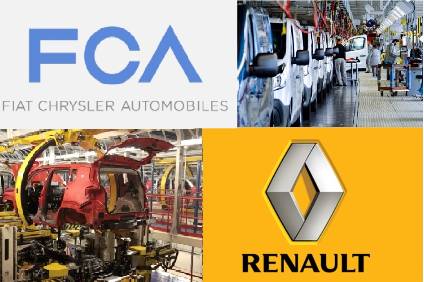 A withdrawn proposal for a merger between Fiat-Chrysler (FCA) and Renault could be revived if a way can be found to alleviate Renault's alliance partner Nissan's concerns over future stakeholdings and influence, a report says.
Reuters reports that FCA and Renault are looking at ways to resuscitate the collapsed merger plan and secure the approval of Nissan. The report cited anonymous sources close to FCA and Renault.
The report also said that Nissan is poised to urge Renault to reduce its 43.4% stake in the Japanese company in return for supporting a FCA-Renault tie-up.
Analysts note, however, that the proposed deal collapsed when the French government put the brakes on progress at a Renault board meeting, claiming more time was needed to obtain Nissan's backing.
Nissan has long been concerned that Renault has too much influence over the Japanese company because of its high shareholding. Nissan executives were also concerned that ex-chairman Carlos Ghosn was moving the company towards a full merger with Renault. The French government also has a 15% stake in Renault, adding to Nissan concerns. A reduced Renault shareholding in Nissan could be attractive to Nissan and potentially unlock political obstacles to the merger, which could also bring significant benefits to Nissan as part of a bigger FCA-Renault alliance able to lever larger scale economies.