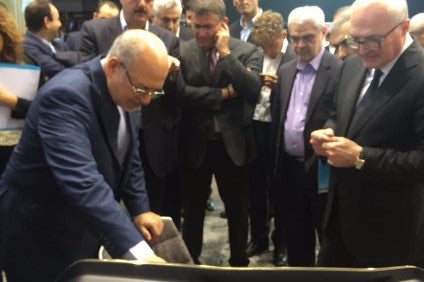 Faurecia says its historical ties with Iran have been noticed by Tehran's automotive sector, which is rapidly inking a raft of deals with French companies as the country comes in from the cold of the sanctions era.
Following the thaw in hitherto icy relations, Western firms, but particularly suppliers and automakers from France have vied to come up with the most eye-catching deals as Iran races to make up for decades of lost time, which saw it assume international pariah status for many.
"What counts is what we did in Iran – the fact we started in 2006 is very well appreciated," Faurecia CEO Patrick Koller told just-auto at last week's Paris Motor Show. "We have never abandoned the market during the difficult times – I am sure the Minister will mention it. [Iran's Industry Minister would later visit the Faurecia stand at the show]
"It is the reason why he went to our plant in France and spent more than two hours there.
"Because of history, sophistication demand is not there, the issue is to have volumes. We believe in this market for years now [and] we signed our first joint venture in Iran ten years ago. It has the infrastructure and the money.
"Look at our customers – all of them – at least the Europeans – and I am sure the Americans very soon – are spending a lot of time [in] active [partnerships] in Iran."
The Faurecia chief – newly installed in his post this July – outlined how the sanctions period – when the West vented its anger at what it perceived to be an Iranian drive to enrich uranium for possible use in nuclear weapons – had severely impacted some competences but stressed the country was extremely keen to rejoin the international business community.
"When you visit the plants in Iran, they clearly have not had the opportunity to make the investments because of sanctions, but these guys are good," Koller added. "We will finalise a second agreement and we have a third one. These partnerships are very strong – we have three plants around Tehran.
"The three plants are seating [ones]. Now we add interior and emissions control, so we need to add new plants. What is missing in Iran is electronics and some technologies are not absolutely relevant, for example, laser welding."
Koller insisted Faurecia enjoyed "normal business relationships" with its partners in Iran and maintained it was "in the interest of the US to have Iran as an ally."
Iran's Industry Minister, Mohammad Reza Nematzadeh recently told just-auto he expected the 40% minimum local content threshold to rise as Western companies signed ever-greater numbers of deals in the automotive sector, while his presence in Paris strongly reinforced Tehran's commitment to the car industry.