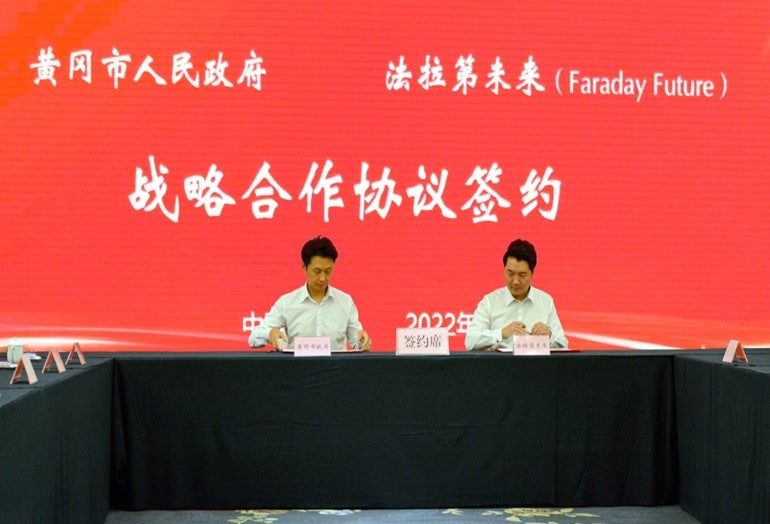 US electric vehicle (EV) startup Faraday Future Intelligent Electric said it planned to establish a China headquarters and manufacturing centre in Huanggang, in Hubei province, eyeing the world's largest EV market.
The California based firm, which self describes as a "class-defining" luxury EV company, confirmed it had signed a non-binding Cooperation Framework Agreement in the third quarter of last year with the Huanggang government to launch its US-China 'dual home' market strategy.
The company, established in 2014 by Jia Yueting, the founder of Leshi Holding Group, said the Huanggang operation would be jointly funded by the company, the Huanggang city government and unspecified industrial funds. It added its global base would remain in Los Angeles.
In a statement the company said, in accordance with the Cooperation Framework Agreement, both parties "are expected to contribute their respective advantages in investment, scientific and technological innovation, industrial transformation, location and policy".
"The Huanggang city government is expected to actively assist Faraday with the industrial layout, deployment of relevant resources and providing support for its local business ventures".
Faraday expects to start production of its first electric vehicle, the FF 91 Futurist, at its newly built plant in Hanford, California in April 2023 with deliveries to start later in the month. The company was said to have made significant upgrades to the car's original systems, including autonomous driving and other smart systems, and other core components.
Faraday sees Hubei as a key automotive province in China with a strong supply chain and annual vehicle production of around 2.1m units (in 2021).