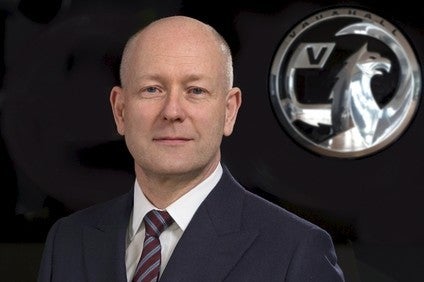 The sudden departure this week of Vauxhall managing director Tim Tozer follows a disagreement within GM's European organisation on volume targets according to a Vauxhall retail network source speaking exclusively to just-auto.
The source said that the 'strategy conflict' centred on volume targets for Vauxhall, with GM's European HQ demanding higher sales numbers from the UK-only brand. However, that demand met resistance from Tozer who has stressed the need to avoid chasing volume for short-term gain. Tozer's preference, the source said, has been to gradually build the Vauxhall brand, raising it image, margins and residuals as part of GM's long-term business strategy for Europe. He saw the demand for much higher volume as undermining that strategy and the disagreement over short-term targets led to Tozer's sudden departure, announced on Wednesday (September 23), the matter having come to a head on the previous evening.
The sudden departure of Tozer has sent shock waves through Vauxhall's UK distribution network this week. It also surprised many motoring journalists who saw Tozer give a presentation at a media event (Astra UK launch) as recently as Monday. He was also very busy with media at the IAA and appeared to be a key part of GM's European management team.
However, the retail network source said that despite the shock of Tozer's sudden departure, there was some relief that his replacement, Rory Harvey, is well known and respected among Vauxhall dealers.
Tozer took the job as managing director of GM Europe's UK brand Vauxhall Motors in February of last year. When he joined he said an important part of the job is to "work out what the brand is and define it properly". In the UK car market, Vauxhall is the second largest brand (Ford is market leader), although Tozer's predecessor Duncan Aldred (now at GM in the US, with Buick) made remarks during his tenure suggesting that Vauxhall could aspire to replace Ford as market leader. Tozer always played down the idea of Vauxhall aspiring to become market leader, stressing the need for profitable sales and the dangers of chasing market share or low margin sales channels such as daily rental.
GM narrowed its loss in Europe in the second quarter of this year, breaking even versus a US$300m loss in Q2 of last year, despite difficulties in Russia (included in GM's European division). GM has said it wants to return to profitability in Europe in 2016. UK sales are relatively profitable for GM in Europe given the strength of the UK car market and the weakness of the euro currency against sterling, which may also have been a factor in the pressure for higher UK volume.
Briton Tozer has held senior management positions within the motor industry across Europe. Before joining GM he was CEO of Autobinck Holding in The Hague while previous roles have included president and CEO of Mitsubishi Motors Europe, managing director of Mazda UK and regional director of Inchcape Motors. He also briefly headed Chrysler France. Tozer began his auto career at the Rover Group where roles included European fleet sales manager and overseeing Far East and Australasian exports.
See also: UK/IRELAND: Shock as Vauxhall/Opel boss Tozer goes
INTERVIEW: Vauxhall's Tim Tozer hails new Astra and Ellesmere Port's resurgence