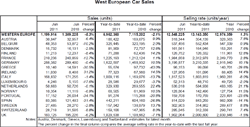 Car sales in Western Europe fell by 8.3% in June according to data released by JD Power Automotive Forecasting.
The market research firm said that while fewer working days in a number of important markets provided part of the explanation for the drop, 'market conditions clearly remain tough'. JD Power said that the annual selling rate of 12.5m units a year in June highlights underlying market weakness. This left the Western European car market for the first six months of the year down by 2.1% on the corresponding six months of 2010.
While sales in Germany were flat last month, the result was impacted by fewer working days. The annualised selling rate came in at what JD Power described as a 'robust' 3.2m units/year, with the strongly performing economy and high levels of business and consumer confidence feeding into car sales. Long may it continue, as the German economy is acting as an engine of growth for Europe at the moment, pulling the more sluggish economies along. Alas, one downside is that the ECB is raising interest rates on growing inflationary concerns (base rate up to 1.5% today; by contrast, UK's base rate left unchanged at just 0.5%). That won't help the euro-zone's flagging economies.
Across Europe car sales were generally sluggish in June, support from scrappage schemes now ended. In France, a car market that is now unsupported by government scrappage assistance compared poorly to the previous year's June result. The annual selling rate in France dipped under 2m units. Expect this subdued level of activity to continue over the coming months, JD Power warned.
The selling rate in Spain had been creeping slowly up over recent months, though the June result ended this upward trend as concerns over the economy continued to mount. June car sales in Spain were down by a whopping third versus last year's scrappage boosted number. The selling rate in Spain was just 810,000 units.