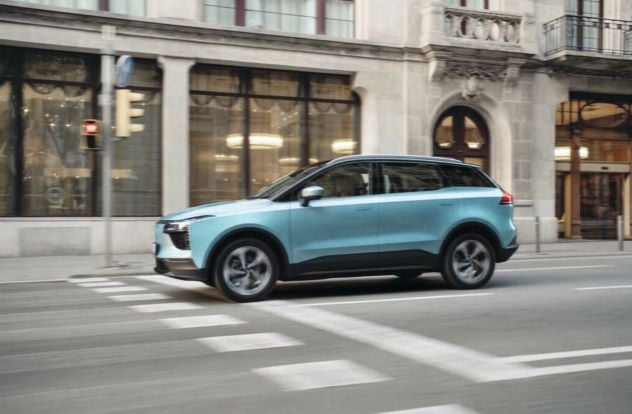 In January 2022, European (EU27) new car registrations rose 11% year on year to 907,000 units. That was also an improvement on January 2021 when Europe's economies were recovering from the pandemic while the industry was facing the worst of the global semiconductor shortage.
Despite progress, volume continued to lag behind pre-pandemic levels. Registrations reached 1.13m units in February 2020 and 1.22m units in February 2019.
Felipe Munoz, global analyst at JATO Dynamics, said: "We are seeing positive signs, but not enough to take the market back to the position it was in before the pandemic hit. The reality is that we might never see sales at that level again."
SUVs drive growth
Last month, growth was largely driven by SUVs. According to JATO Dynamics data, registrations across all SUV types (small, compact, midsize, luxury) totalled 464,900 units, up by 14% compared to January 2022.
With a market share of 51.3%, January marked the first time that SUVs had accounted for more half of total new car registrations in Europe.
Munoz added: "The recent EV boom drew attention away from SUVs, but due to their popularity with consumers around the world, they continue to play an important role in driving the slow recovery of the industry."
Compact SUVs (C-SUVs) accounted for almost half of all SUV registrations, while the smallest models (B-SUVs) accounted for 38% of the total. Volkswagen Group led the segment with 129,500 units (+33%), followed by Stellantis with 62,800 units (-7%), Hyundai-Kia with 46,200 units (-5%), Toyota with 38,300 units (+11%), and Renault Group with 34,300 units (+20%). Chinese brands registered 12,100 units – an increase of 109%.
BEV growth slows
Registrations of Battery Electric Vehicles (BEVs) or pure electric cars, increased by 4% to 92,700 units but growth has slowed when compared with 2022. Munoz, added: "Without affordable options from OEMs or more attractive incentives from governments across Europe, it seems that demand may be close to reaching a peak."
Unlike in previous years, Tesla performed well during the first month of the quarter with a 1,018% increase in volume to 9,400 units. In addition to the strong performance of the Model Y – Europe's best-selling BEV in January – and the Model 3, Tesla also successfully reintroduced the Model S and Model X.
Tesla outpaced Volkswagen by just 10 units but the German manufacturer saw a considerably lower increase in volume of 29%. Its sister brand Audi followed with 6,400 units, up by 7% but less than the 28% and 16% increases posted by rivals BMW and Mercedes, respectively.
MG registered more electric cars than major players brands such as Kia, Fiat, Skoda and Opel/Vauxhall. Other notable Chinese brands include BYD with 139 units, Aiways with 82, DFSK with 50, ORA with 23 and Nio with 20.
Sandero leads again
As seen in 2022, the Dacia Sandero led the overall model ranking by model in January thanks to strong demand in France where it topped the ranking, and in Italy as the country's third best-selling vehicle. The Dacia Duster also entered the top 10 and outsold Renault in the brand ranking by brands.
Toyota's Yaris and Yaris Cross were the third and fourth most registered vehicles, respectively. The Fiat 500 again performed well, despite a 1% decrease in sales of the electric version due to a downturn in demand for BEVs in Italy.
The Tesla Model Y, Dacia Spring, Volkswagen ID.3 and ID.4, and the Fiat 500 led the BEV ranking while the Volvo XC40 and Renault Megane also entered the top
10 due to strong increases in volume.
Among the new model entries, Dacia registered 6,939 units of the Jogger; Renault 3,629 Australs; Toyota 3,483 Corolla Crosses; MG 2,285 units of the 4; Alfa Romeo 2,169 Tonales; Mazda 1,398 CX-60s; Peugeot 1,308 408s; and Nissan 1,296 new X-Trails.