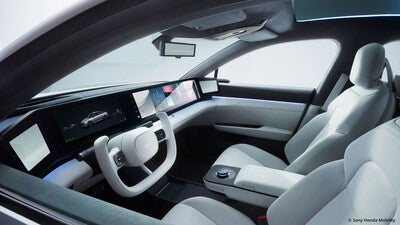 Elektrobit has revealed it is a provider of software and services for the Sony Honda Mobility (SHM) Afeela prototype, which was unveiled at CES 2023.
The company said it's the latest result of Elektrobit's multi-year collaboration with Sony and now SHM to 'reimagine the software-defined vehicle'. The partnership began in 2019 around the development of the first two Sony VISION-S prototype vehicles; the new Afeela brand vehicles are slated to enter commercial production in 2025.
Elektrobit developed the cockpit system including software for the Qualcomm high-performance computing (HPC) processors and the software stack up to the UX design powering all cockpit displays. In addition, Elektrobit provided integration services for the cockpit system encompassing all software and hardware components and applications from Sony and its partners.
"The Sony Honda Mobility Afeela prototype is the epitome of software and service integration in a vehicle. It represents a unique user environment that enables the fusion of comprehensive contextual awareness including location, vehicle status, and even the driver's and passengers' emotions. The proper software portfolio enables an entirely new experience that is enriching, stimulating and safe. Elektrobit is the ideal software expert to bring that proposition to life," said Roger Lanctot, director, Automotive Connected Mobility, TechInsights.
The Afeela represents a sea-change in how vehicles are designed, with software playing an increasingly important role, both for core vehicle operation and as a way for carmakers to innovate.
Software takes center stage in the Afeela prototype cockpit, allowing Sony to integrate its latest audio and camera sensor technologies as well as an incredible array of gaming, movie and music content. SHM also announced a partnership with Epic Games, opening up an array of experiential possibilities which can be brought to life within the cockpit system.
"We're extremely proud to be the strategic software partner of Sony Honda Mobility on its groundbreaking Afeela prototype project," said Maria Anhalt, CEO, Elektrobit. "Together with SHM we are redefining mobility around the vision of creating a new more inspirational and emotional type of user experience. Software is the starting point of this. There is an immense amount of computing power packed into this car which creates all kinds of user experience possibilities, and it challenged us to meet a new level of demands in terms of systems architecture. As a result, we have been able to play a much more central role in this project than in a traditional OEM to supplier relationship and the Afeela prototype really highlights the potential benefits of this shift towards a software-first mindset. We are excited to continue the journey."