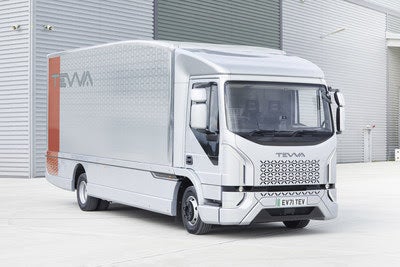 Tevva, the electric truck pioneer, said it had received GBP4.2m, the majority share of a GBP5.7m total grant from the UK's Advanced Propulsion Centre (APC).
This will help finance the development of its next generation, zero-emission, long-range medium duty trucks (7.5 to 19t gross vehicle weight).
The grant will be used to advance the SANGREAL Project, a GBP12.2m collaboration between Tevva and Advanced Electric Machines (AEM), an internationally recognised designer and manufacturer whose vision is to build the most sustainable motors in the world.
As the electrification of the medium to heavy duty truck market has largely been overlooked, Tevva and AEM will build upon their combined, existing and experience in commercial vehicle electrification to accelerate the development of Tevva's fuel cell range extended medium to heavy duty commercial electric vehicles for the 7.5–19t ' 'back to base' logistics market.
The project involves the design and development of an innovative electric transaxle and intelligent vehicle propulsion control system with on-board telematics which is designed to optimise the use of the H2 fuel cell range extender for operating range and reliability and enable predictive and preventative servicing.
SANGREAL will create and safeguard vital UK-based research and manufacturing jobs, delivering cost and environmental benefits to the industry as well as to social stakeholders and the public.
Ken Scott, chief engineer at Tevva, said: "We are humbled and proud to be receiving this grant to continue developing groundbreaking technology in the EV market."