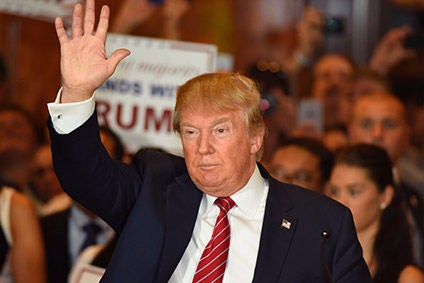 European politicians have requested urgent face-to-face talks with US President-Elect, Donald Trump to discuss the future of the Transatlantic Trade and Investment Partnership (TTIP), following his remarks he would extinguish the deal should he secure the keys to The White House.
Alarm bells are now ringing in European Union (EU) capitals as the fallout from Trump's shock election victory continues to reverberate around the world although the billionaire's pledge carried on his website to return to the State of Michigan "every time we open a new automobile plant," may occupy much of his immediate focus.
Trump made Michigan – still largely home to America's automotive powerhouse – his final stop on a punishing whistle-stop last day tour of America's rustbelt, which took in thousands of miles and several States, reiterating his profound opposition to TTIP and other trade deals.
"We will immediately stop the job-killing Trans-Pacific Partnership," said Trump last week (3 November) in North Carolina," before immediately turning his crosshairs to what appears to be companies moving production and importing cheaper goods to the US.
"If a company wants to fire their workers, move to another country, and then try to ship their products back into the US, we will apply a 35% tax on those goods," added the President-Elect. "A Trump administration will renegotiate NAFTA [North American Free Trade Agreement] – and if we don't get the deal we want we will terminate NAFTA and get a much better deal for our workers.
"As part of our plan to bring back jobs, we are going to lower taxes on American business from 35% to 15%."
Concluding a TTIP deal has long been a cherished aim of the European automotive supplier association CLEPA, which noted regulatory issues between the US and the European Union (EU) should be dealt with through the talks.
This also includes work with the US National Highway Traffic Safety Administration (NHTSA) to decide whether there can be agreement on equivalence or harmonisation in specific areas of regulation but although Trump's comments may lend an air of – initial – confusion to the discussions sources in Belgium insist dialogue will continue.
"TTIP will continue very quickly," was all the reliable source in Belgium with knowledge of the automotive element of the transatlantic discussions confined themselves to saying to just-auto, but political leaders were more explicit this morning.
"The EU – US strategic partnership is broad and deep: from our joint efforts to enhance energy security and address climate change, through EU – US collaboration on facing threats to security in Europe's Eastern and Southern neighbourhoods, and to the negotiations on the Transatlantic Trade and Investment Partnership – we should spare no effort to ensure that the ties that bind us remain strong and durable," said a joint letter to Trump from European Council president Donald Tusk and European Commission president Jean-Claude Juncker.
"We should consolidate the bridges we have been building across the Atlantic. Europeans trust America, whose democratic ideals have always been a beacon of hope around the globe, will continue to invest in its partnerships with friends and allies."
Both Euro politicians extended an immediate invitation to Trump to visit Europe for an EU – US summit "at your earliest convenience," although the new President may have his focus trained more at home in the next few months before his formal inauguration in January as confirmed by comments on his website.
"I know exactly what to do folks," he said. "We are going to bring back the automobile industry to Michigan, bigger and better and stronger than before."
British Prime Minister, Theresa May congratulated Trump, noting: "We are and will remain, strong and close partners on trade, security and defence."
At the time of writing, voting results from Michigan were still not in.