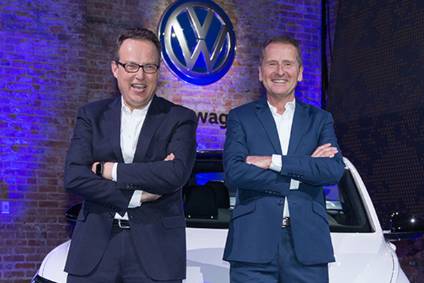 Volkswagen Group's North American chief, Hinrich Woebcken, told the audience at Automotive News World Congress in Detroit that regional reforms at the embattled carmaker two years ago have been instrumental to the VW brand's turnaround in the US. He also said the company has benefited from a more realistic pricing strategy and enhanced product offerings, especially in SUVs (the company is planning two more SUVs by the end of the decade).
"When I arrived in North America [he began his current role in 2016] it was decided to give the region strong autonomy. In Canada, US and Mexico, our operations – sales and marketing, production facilities, R&D – all reported horizontally to our headquarters in Germany. And somehow, in headquarters, a business model was put together for America," Woebcken said .
Bringing North American operations together two years ago was a "big move" and is "going well", he said.
Woebcken also acknowledged that VW was late to introduce SUVs in the US. "However, it is now punching into the bigger SUV segments with the Atlas and the Tiguan. These two cars stand for the beginning of a turnaround story for Volkswagen," Woebcken maintains.
He said sales running rates for the Atlas are very promising and noted that the latest Tiguan design is very much focused on US market requirements (eg longer wheelbase, third row seating).
Woebcken also said that the naming of the Atlas model was symbolic of changed attitudes to VW's North American business. "The [full-size] SUV had a name, starting with a 'T' and then breaking your tongue afterwards. It was a typical global name. I was new in the company and didn't fully understand these processes, but I said, 'why don't we change it?' Everyone said 'if you really try to do that you might as well pack your luggage and go home; you will be fired.' We listened to the dealer body and I said, 'we need a really good and solid name'. We did research and Atlas was top of the list and we stuck with that. It's a small story, but it is symbolic of how we are giving the brand the opportunity to develop in the market."
Woebcken also outlined the importance of US-focused model offerings across all major segments in the US market. "The Jetta compact sedan [shown in Detroit], is very well received," he said. "Good package, very good price. It is a very important high volume model for the brand."
Similarly, he said VW, as a full-line maker, would continue to offer the Passat, despite its presence in a shrinking segment. He stressed that the Tiguan, Jetta, Passat and Atlas are four models highly geared to US market needs.
However, he also acknowledged that pricing, reliability and total cost of ownership concerns for customers have been addressed.
"We have made sure that the pricing is at the sweet spot in terms of pricing," he said. Woebcken pointed out that past high pricing (with a typical price premium of USD3,000-USD5000 for a VW), needed heavy incentives and residual values fell. In Europe VW could be near premium in pricing terms, but that hadn't worked in the US, he admitted. "In the US we have to realise we are in competition with Toyota, Honda, Ford, Hyundai," he said. "It was tough for the company to accept."
He said the recent warranty enhancements on US sales also sent the message that VW is listening to the customer. "We realised that reliability and TCO are very important concerns for customers."
Woebcken also told the conference that two further Volkswagen SUVs are planned for the US market by the end of the decade – one in each segment that it currently occupied – described as a 'doubling up'.
Volkswagen has said it wants to achieve breakeven in terms of operating profits in North America by 2020.
Apart from the new Jetta, the Arteon will be launched in America this year, with a new Passat to follow in 2019. Additional SUV models, based on the MQB architecture will follow.
The first of a new family of full battery electric vehicles will be added starting in 2020 and will be based on the modular electric drive matrix (MEB). The first MEB model to go on sale in America will be an SUV.
Volkswagen says it has made 'considerable progress in dealing with the diesel issue' and that more than 80% of the 540,000 vehicles affected in the US have already been retrofitted or bought back.
The Volkswagen brand achieved US sales of 339,700 units in 2017, 5.2% ahead of the previous year and the first increase in deliveries since 2013.