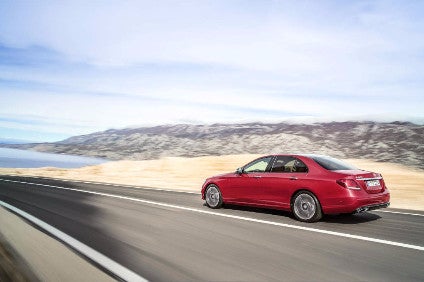 Daimler is to spend EUR220m updating 3m Mercedes-Benz diesel vehicles in Europe in what it terms "voluntary service actions". It also plans to speed up the launch of a new line of diesel engines for its passenger models.
What is effectively a recall is, in fact, an expansion of a current programme.
Daimler said: "Since March, Mercedes-Benz has offered its customers of compact class cars an improvement in NOx emissions for one engine version. Approximately 45% of those cars have… been updated. A voluntary service action is also being carried out for V-Class [minivan/MPV] customers – so far with approximately 75% of the vehicles in Germany.
"In order to effectively improve the emissions of additional model series, Daimler has now decided to extend the service action to include over 3m Mercedes-Benz vehicles. For this purpose, the company's engineers are making use of latest knowledge gained during the development of the new family of diesel engines."
"The public debate about diesel engines is creating uncertainty – especially for our customers. We have therefore decided on additional measures to reassure drivers of diesel cars and to strengthen confidence in diesel technology," said Mercedes-Benz Cars chief Dieter Zetsche.
"We are convinced diesel engines will continue to be a fixed element of the drive-system mix, not least due to their low CO2 emissions."
Work on nearly all EU5 and EU6 emissions regulations-compliant vehicles in Europe would be carried out in close cooperation with German regulatory authorities, Daimler added. Modifications, at no cost to vehicle owners, will start in the next few weeks.
VW has been carrying out a similar programme to reduce emissions from some of its diesel engine models and there have been anecdotal reports of a few owners experiencing problems following a software update.
Mercedes-Benz noted it had spent EUR300bn to develop a new generation of diesel engines and claims their "exemplary emissions have been confirmed by measurements carried out by independent institutes".
The new I4 OM654 engine made its debut in the redesigned E-Class in 2016 and Daimler now plans to speed up the launch of this modular engine family across its entire vehicle model line.
Though it is working on introducing electrification to its vehicles, Daimler expects iesel engines "will continue to play an important role for a long time yet due to their significantly higher efficiency than gasoline engines".
Reuters noted the voluntary service campaign announcement came after German lawmakers last week questionsed Mercedes-Benz executives about emissions. At the time the carmaker agreed with the transport ministry to undergo another round of emissions tests.
Daimler has said its vehicles are street legal but has also warned investors in its quarterly report that moved by US authorities to investigate "functionalities", including some which it said were common in diesel vehicles, could lead to significant penalties and vehicle recalls, the news agency added.