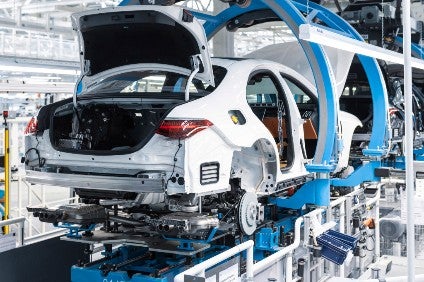 Daimler claims its new Factory 56 at Sindelfingen, Germany, is 25% more energy efficient than its previous Mercedes-Benz S-Class assembly plant.
The EUR730m facility was part of an overall EUR2.1bn spend at the vast Sindelfingen site.
The automaker said the new plant was designed for maximum flexibility so any size or type of passenger vehicle and powertrain can be added to series production "in just a few days". Production can be adjusted quickly and flexibly to meet market demand.
Daimler declined to detail planned Factory 56 production capacity with a spokeswoman telling just-auto by email: "In principle, we do not provide any information on the production capacities of production halls. In 2019, we produced a total of more than 310,000 vehicles at the Mercedes-Benz Sindelfingen plant."
Factory 56 is claimed to be completely CO2 neutral and with "significantly" reduced energy requirements. It has solar panels, DC power grid and energy storage using recycled vehicle batteries.
"The concept of Factory 56 will be gradually transferred to all Mercedes-Benz car plants around the world as a blueprint," Daimler said.
On one floor, Factory 56 can perform all assembly stages for vehicles of different designs and drive systems including all electric drive.
The redesigned S-Class sedan in short and long wheelbase forms will be first off the line. The Maybach S-Class variant and the EQS, the nameplate's first all electric variant, will follow. Any Mercedes-Benz passenger model could be built at the plant as required.
Two 'TecLines' avoid fixed points in the assembly process, improving flexibility. They combine all complex plant technology at one point. Conversion work to add new models is easier to carry out in the other areas of the assembly hall. On the TecLines, traditional conveyors are replaced by driverless systems. To add a new model and associated equipment, it is only necessary to change the AGVs' routes – there are 400 such vehicles.
Fullflex Marriage – the point where body meets powertrain and suspension – consists of several stations and key modules can be changed within a weekend, the automaker said.
Smart production
Factory 56 is based around the MO360 digital ecosystem – a set of software applications which are connected via shared interfaces and standardised user interfaces, using real time data to support vehicle production worldwide. MO360 integrates information from main production processes and IT systems of 30 Mercedes-Benz car plants worldwide and consolidates software applications. It delivers optimised KPI based production control and also makes individual, needs based information and work instructions available to each worker in real time.
At Factory 56, a new, digital infrastructure with a high performance WLAN and 5G network underpins the full digitisation. It uses Industry 4.0 applications from smart devices to big data algorithms.
The plant is completely paperless. Digital tracking of each vehicle on the line via a positioning system provides data relevant to workers displayed on the line in real time, using both digital devices and display screens. Daimler claims this will save about 10 tonnes of paper a year.
Machines and production equipment are interconnected throughout the entire factory most already internet of things (IoT) capable. The connectivity extended beyond the plant itself as digital technology, such as virtual or augmented reality, was used during development and planning. Suppliers and transport providers benefit from tracking and tracing of material flow worldwide.
Sustainable production
Daimler said the Factory 56 energy consumption is 25% lower than its other assembly plants. Solar panels supply about 30% of annual power needs and some of this power goes to a direct current network which improves energy efficiency, powering items such as ventilation units. The stationary energy bank based on recycled vehicle batteries is also connected to the DC network. The overall capacity of 1,400 kWh acts as a buffer for excess solar power from the photovoltaic panels. Lighting is provided by LEDs and 'blue sky architecture' which allows staff to work in daylight.
Plants cover approximately 40% of the factory roof area, compensating for the sealed ground area and improving climate inside the building by retaining rain water which is kept separate from contaminated water.
The façade is constructed of recycled concrete made from demolition material.
Around 1,500 people will work on two shifts at Factory 56. The entire Sindelfingen site employs about 35,000.
In typical German fashion (works council representatives have seats on automakers' boards), Mercedes-Benz involved Factory 56 workers from the start with production people asked about personal preferences in an online survey. They were able to state preferred shifts, work areas and even colleagues with whom they wanted to work. Response rate was "very high" and 85% of requests were granted, Daimler said.
The factory has its own canteen so staff can avoid having to walk long distances on the site.
Ergonomics were a priority as they are in all new car plants these days. All assembly stages were scrutinised for "ergonomic compatibility" early in the planning process. Vehicles on the line can be positioned to best suit workers using rotating overhead conveyors or mobile platforms. All stations are height adjustable. Young and "experienced" (read older) colleagues work side by side.
Facts and figures
Construction: 2½ years
Overall ground area 220,000 square metres, (30 soccer pitches)
Excavated earth: 700,000 cubic metres
Steel used: 6,400 tons (almost as much as the Eiffel Tower)
Volume of concrete used: 66,300 cubic metres (corresponding to about 150 German family houses)
Recycled concrete used for main building
12,000 solar panels with output of 5,000 MWp (megawatts peak)
Mercedes-Benz Energy bank with 1,400 kWh capacity
Length of rain retention channel almost 1km, maximum depth 17 metres, diameter 3 metres
High-performance WLAN and 5G mobile network as the basis for full digitisation