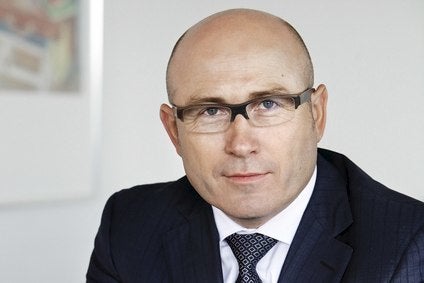 Bernhard Maier has taken over as the Skoda brand's new CEO effective from today. He succeeds Dr Winfried Vahland, who has decided to leave the VW Group.
As part of a reorganisation of VW management in the wake of the diesel emissions crisis, Dr Vahland had been earmarked for a new position as head of North American operations. However, he turned down the new position for personal reasons and elected to leave the VW Group.
Maier is the former Sales and Marketing Director at Porsche AG.
"I am proud to work for this large, traditional and well-respected company. I am pleased to be joining a great team," says Maier. "This company is an outstanding representative of the importance of the Czech Republic and Bohemia as one of the cradles of European automobile manufacturing. The people from this region have an excellent reputation around the world for their craftsmanship and engineering skills. Skoda has grown impressively over recent years with a remarkable number of new vehicle launches. The company has a stable base for further successful development. It is my great task to take the brand forward alongside a highly dedicated team. We plan to continue on this road to success and expand Skoda's market position and brand strength with new models," he said.
Born in Schwäbisch Gmünd, the 'thoroughbred car man' was responsible for Sales and Marketing at Porsche AG until recently. Skoda said that with the expansion of Porsche's model range and a consistent internationalisation strategy, "Maier took Porsche's sales to a new level".
After completing his apprenticeship as a car mechanic, Maier graduated top of his class in all disciplines as a master mechanic in 1984. Afterwards, he studied business administration in Calw. After spending two years in positions at computer manufacturer Nixdorf, and Wallhäuser the equipment company, he returned to the automotive industry in 1988. Maier assumed several managerial positions at BMW in Germany and abroad over the following years. In June 2001, he joined Porsche where he led the business operations of Porsche Deutschland. From 2010, Bernhard Maier was the Board Member for Sales and Marketing of Porsche AG in Stuttgart.
Maier joins a brand on a high, despite some impact of the VW Group diesel crisis.
The Skoda brand is gowing fast in China where it has just launched the new Superb.
Skoda also announced last week that in the first nine months of 2015, its deliveries to customers increased by 2.2% to 791,500 vehicles worldwide. During the same period, sales revenue increased by 5.7% to EUR9.3bn (US$10.2bn). Operating profit rose significantly to EUR734m, representing an increase of 12.7% compared to the same period in 2014.