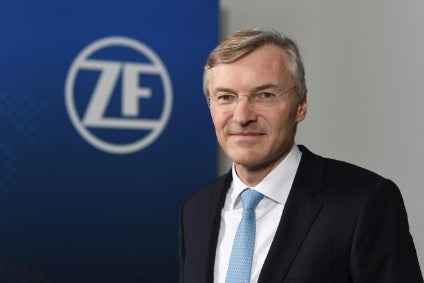 In the first six months of this year, ZF achieved sales of €21.2 billion (2021: €19.3 billion), an increase of 10 percent above the prior-year period (5 percent was currency effects). Adjusted EBIT totalled €851 million (2021: €1.0 billion), equivalent to an adjusted EBIT margin of 4.0 percent (2021: 5.2 percent).
"The first half of the year was characterized by many uncertainties and external influences. We, as the ZF team, have mastered them well – notably based on the experience gained in the past two years of the crisis," said Wolf-Henning Scheider, Chief Executive Officer of ZF Friedrichshafen AG, when presenting the half-year figures on Wednesday. "The war in Ukraine, the pandemic-related lockdowns in China, the limited availability of semiconductors and significant inflation have affected our business. Our focus is on striking the right balance between our customers' expectations and our earnings target while ensuring ongoing investments in future technologies."
"In a weak and volatile market environment, we have demonstrated stability and perseverance in our performance," said ZF CFO Dr. Konstantin Sauer. "The challenges will not diminish in the second half of the year. But we are confident that we will remain on track through cost awareness, continued consistent mitigation of inflationary effects, and active management of our inventories. We are keeping a close eye on our annual financial targets."
In light of developments to date and the prospects for the next few months, ZF said it is sticking to its full-year outlook that will remain unchanged. The company expects moderate growth in sales in 2022, with a volume exceeding €40 billion for the first time. ZF forecasts an adjusted EBIT margin in the range of 4.5 to 5.5 percent and adjusted free cash flow of between €1.0 billion and €1.5 billion.
Gas shortage preparations
The company stressed that the outlook still comes with a caveat as ZF expects continuing negative influences from ongoing issues (inflation, war in Ukraine, limited availability of semiconductors, new outbreaks of the Covid-19 pandemic). Possible gas supply stoppages in Germany and Europe could also impact business in this year's second half. The company said it is preparing for this scenario. "We are bolstering the measures already in place to further reduce our energy consumption, as reflected in our sustainability strategy," said CEO Scheider.