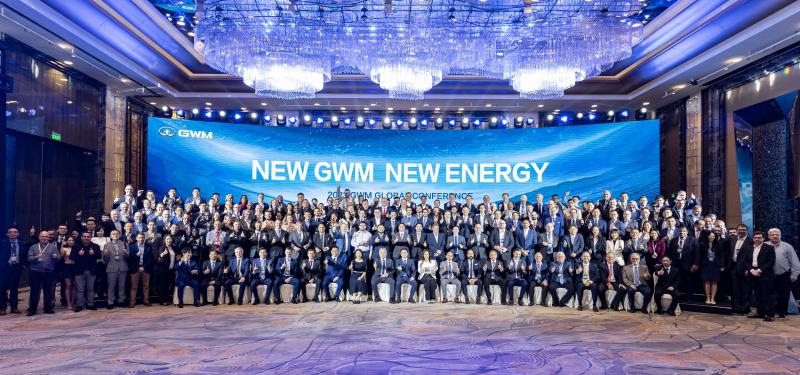 Great Wall Motors (GWM) has held its 2023 Global Conference with the theme of "New GWM New Energy" attended by more than 260 distributor representatives from more than 60 countries and regions.
At the conference, GWM held a grand award ceremony to commend distributors who worked with GWM to expand the market. Parker Shi, the Vice President and the Head of international market of GWM, awarded honorary awards to distributor partners who have made outstanding achievements. Before the ceremony, GWM also held the Global Business Partner Signing Ceremony and established partnerships with dozens of new distributors from global markets.
Mu Feng, President of GWM, also gave a 'detailed introduction to the participants on GWM's global expansion, Forest Ecosystem, and future new energy strategic planning'.
Mu Feng said that GWM has issued a declaration on new energy to the world, that is, GWM Intelligent NEV, Greener, Higher, Safer. In the future, based on the Forest Ecosystem, GWM said it will adopt the "ONE GWM" model and "global big single product strategy to carry out targeted differentiated planning in the global market and cooperate with global partners to create more high-quality new energy products for customers".
GWM also invited hundreds of distributor representatives to visit the factory and R&D laboratory on the eve of the conference and attend GWM's press conference in Auto Shanghai.
In a statement, GWM said a new distributor partner said: "The visit to GWM has given me an experience of its excellent new energy solutions and I hope to bring new energy vehicles to more local customers as soon as possible."
GWM also said distributors "from Australia, South Africa and Brazil are optimistic about the future market performance of GWM. Distributor representatives believe that GWM's excellent quality, luxury features and new energy advantages are recognized by consumers and it is gaining a good reputation. Cooperation with GWM will be an important step towards a better future."
In 2022, the overseas sales volume of GWM exceeded 170,000 units, with a year-on-year increase of 21.28%, hitting a record high. Since its export programme began in 1997, GWM has had more than 700 overseas sales channels covering more than 170 countries and regions around the world, with a total sales of more than one million vehicles.
In the future, GWM said it will promote the overseas implementation of the whole industrial chain including products, technologies, and services.