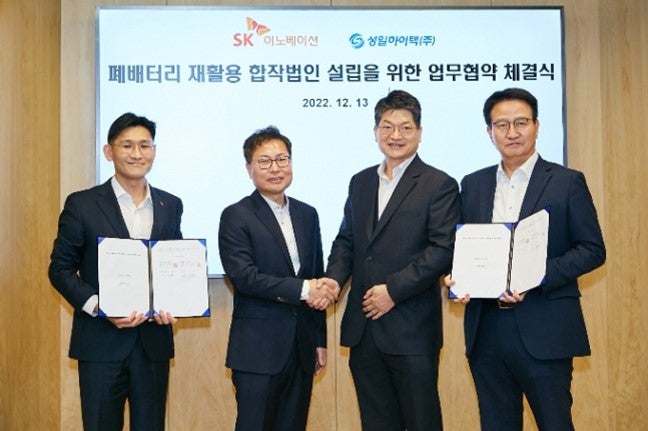 South Korean energy and chemicals group SK Innovation Company this week announced plans to establish a joint venture with local firm SungEel HiTech Company to extract and recycle metals from discarded electric vehicle (EV) batteries.
SungEel HiTech already recycles automotive batteries and the joint venture with SK Innovation is expected to strengthen its position in the emerging EV battery recycling market.
The two companies signed a memorandum of understanding (MOU) for the establishment of the joint venture at an event in Seoul, with details such as the amount of investment and shareholdings yet to be agreed. The final joint venture agreement is expected to be announced in early 2023.
The partnership is also expected to give SK Innovation access to recovered valuable lithium-ion battery metals such nickel, cobalt and manganese for the production of EV battery cathode materials. SK Innovation's head of Portfolio Divisional Group, Kang Dong-soo, said in a statement "we plan to quickly create a circular economic model of recycling battery materials, to flexibly respond to global regulations on batteries through our competitiveness in recycling technology".