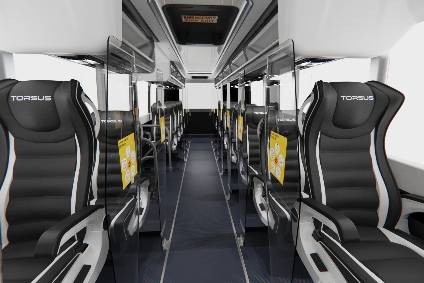 Czech coachmaker Torsus says it is now offering passengers of the Praetorian – a heavy-duty, off-road bus – protection from COVID-19 (Coronavirus) with a new adaptive seating option that meets international social distancing guidelines.
It says discussions with Torsus distributors around the world indicated that when much of the global community had to pause, multiple industries such as mining, remained operational but needed to ensure the safety of its staff to and from work sites.
To support these industries Torsus has introduced the 'Anti-COVID-19' social distancing pack for the Torsus Praetorian. It says that by taking advantage of the vehicle's modular interior configuration Torsus engineers have been able to ensure that passengers can be transported safely while social distancing is adhered to.
In the 37-seat capacity bus, the double row seats on each side can be removed leaving only a single coach seat on each side. Each seat is then encased in its own protective pod crafted from 3.5mm thick clear plastic, specifically moulded to slot into the now vacant seat rails without causing any damage. When social distancing is no longer required, the bus can be simply reverted to its full capacity interior with no unsightly holes or damage, the company says.
The Torsus Praetorian was designed to transport personnel and equipment safely across the world's harshest environments. The bus is based on an upgraded heavy-duty MAN chassis and is powered by MAN engines and drivetrain.