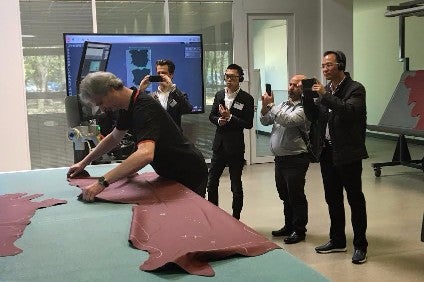 Interiors specialist Yanfeng, says rising demand for premium cars in China will fuel demand both for its products and the automotive leather segment.
The premium segment is growing 5% in China, with a knock-on effect for the leather industry, but consumers in the country are also looking to purchase vehicles with an eye to customise them afterwards.
Speaking at last week's (20 April) Automotive Leather Event at its headquarters in Bordeaux, Yanfeng Trim Business Unit director, Sun Zhongwei, noted the phenomenon, adding Chinese customers were becoming more demanding in their requirements.
"Premium carmaking in China is growing [and] genuine leather is mainly for premium cars," said Zhongwei in Bordeaux. "The entire world is looking at Chinese market growth. After car purchase, many Chinese customers will change the interior of their car. [The] 5% growth in the premium car segment, that only includes sales, not after purchases to change the interior.
"Leather is obviously developing very fast in China and Chinese customers will become more and more demanding in the quality and look of leather. [The] leather market is at flat growth [however]. That is because more than 40% of cars are Chinese-made and in these cars we use vinyl and PVC for the seat cover.
"We are happy to see many premium car makers will be producing in China – that will be an opportunity for us and leather is going to be more and more important. Customers…need more and more personalisation and we have already started to see customers combine modules, to compose the car seat.
"This is an opportunity and a challenge for us – how to adapt our cutting quality to respond to customers' demands. That is why we will be using additional leather cutting. We will be producing smaller batches but with more complex configuration."
Yanfeng Automotive Interiors ( YFAI) is the vehicle interior giant created by the 2015 70:30 joint-venture between Yanfeng Automotive Trim and Adient.
Data from just-auto's QUBE service shows Yanfeng Global Automotive Interior Systems, headquartered in Shanghai, claims to be the largest automotive interiors supplier in the world, with an estimated global market share of 15% (50% higher than the number two player) and a 25% share of the fast expanding Chinese market, where a high degree of component localisation has been achieved. The company's European business is based in Neuss, Germany.
Following extensive consolidation of the automotive interiors business in recent years, the main competitors for YFAI are now Faurecia, Grupo Antolin and International Automotive Components Group (IAC).
Echoing an Industry 4.0 theme at Lectra's Automotive Leather Conference, the Yanfeng Trim director noted how traditional die presses were being replaced by upgraded machines to allow speedier manufacture.
"Traditional die presses need more time," added Zhongwei. "Digital cutting can be done in real time – this allows supply to OEMs more quickly.
"We are going through this transformation and we need to discuss with Lectra to make this happen in our company."