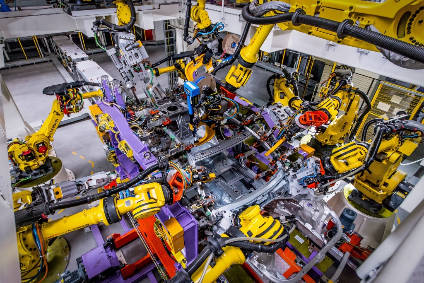 China's new vehicle market fell by a further 13% to 1,862,000 units in May 2022 from 2,128,000 units in the same month of last year, according to passenger car and commercial vehicle wholesale data released by the China Association of Automobile Manufacturers (CAAM).
Vehicle sales were held back by a second consecutive month of strict lockdowns across Shanghai as part of the government's zero-Covid policy, which were slowly lifted at the end of May. This followed similar lockdowns in other large cities in the country, including Shenzhen, Changchun and Tianjin, earlier in the year, bringing economic activity in the affected areas to a virtual standstill.
In the last week, parts of Shanghai went back into lockdown due to a new outbreak while social restrictions have increased in Beijing after new infections were detected in some parts of the capital city. The Covid crisis is far from over in China under the government's zero-tolerance policy.
Total vehicle sales in the country in the first five months of 2022 fell by over 12% to 9,555,000 units from 10,875,000 units a year earlier, with growth in the first two months of the year more than wiped out by sharp decline in the subsequent two months. Passenger vehicle sales were down by almost 4% at 8,133,000 units in this period, while commercial vehicle sales plunged by 42% to 1,421,000 units.
Sales of new energy vehicles (NEVs), mainly electric and hybrid vehicles, rose by 105% to 477,000 units in May and by 111% at 2,003,000 units year to date, including 1,586,000 battery powered electric vehicles, as vehicle manufacturers prioritised this segment.
The market this year has also been held back by the ongoing global semiconductor shortage and by disruption to supply chain logistics caused by the Covid lockdowns, with many vehicle manufacturers struggling to fulfil substantial order backlogs. Consumer sentiment has been significantly affected by the strict Covid measures, prompting the government to announce measures to stimulate the domestic economy.
At the beginning of June, the government cut sales tax from 10% to 5% on fuel efficient passenger vehicles costing up to CNY300,000 (US$45,000) and with engines no larger than two litres until the end of 2022, providing a substantial lift to the market in the second half of the year.
Manufacturer performance
The country's largest vehicle manufacturing group, Shanghai-based SAIC Motor, saw its global sales fall by almost 11% to 363,591 units in May and by over 11% to 1,750,706 year-to-date. Overseas sales almost doubled to 86,078 vehicles last month and were up by 45% at 296,852 year to date.
SAIC-Volkswagen five-month sales were down by 4% at 448,639 units after falling by 20% to 87,402 in May; while SAIC-GM-Wuling deliveries fell by 20% to 100,000 last month and by almost 12% to 502,074 year to date.
SAIC-GM, which has been severely affected by the global semiconductor shortage, saw its sales fall by just over 3% to 83,037 vehicles in May and by over 23% to 381,402 cumulatively.
SAIC Motor's own passenger vehicle sales rebounded by 33% to 70,499 units in May and were up by over 12% at 283,201 year-to-date while its wholly-owned SAIC-Maxus subsidiary saw its sales fall by 38% to 12,373 last month and by 16% at 72,340 in the five-month period.
Shanghai-based Tesla global sales fell to 32,165 units in May, including 22,340 exports, and to 215,851 units year-to-date including 96,214 exports.