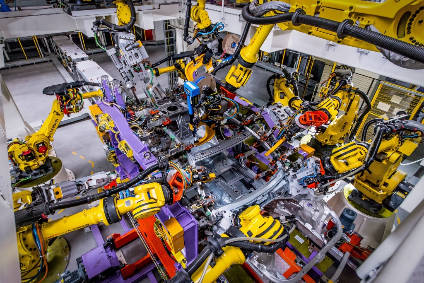 China's new vehicle market declined by close to 12% to 1.864m units in July 2021 from 2.112m a year ago, according to passenger car and commercial vehicle wholesale data released by the China Association of Automobile Manufacturers (CAAM).
This was the third consecutive monthly decline after a strong rebound earlier in the year from weak 2020 levels.
Vehicle production last month continued to be held back by the global shortage of semiconductors which affected output by some major automakers. Overall vehicle production fell 15.5% to 1.863m units last month, according to the association.
Underlying vehicle demand in the country remained strong with the market having already rebounded to pre-pandemic levels driven by strong pent up demand and low interest rates. The Chinese economy expanded by 7.9% in the second quarter of 2021 after rebounding by over 18% in the first quarter.
New vehicle sales in the first seven months of the year were still sharply higher, by over 19% to 14.756m units from 12.365m units a year earlier, with passenger vehicle sales rebounding by over 21% to 11.56m units while commercial vehicle sales were up by almost 13% at 3.196m units.
Sales of new energy vehicles (NEVs), mainly BEVs and hybrids, increased by 164% to 271,000 units in July and by 212% to 1.478m year to date. Passenger vehicles accounted for 1.398m of these while sales of BEVs amounted to 1.227m.
The association also reported vehicle exports increased by 179% to 174,000 units in July and by 124% to 1.002m year to date including 127,000 NEVs.
Manufacturer performance
SAIC Motor group sales plunged by almost 23% to 352,546 units in July 2021, driven lower by a 48% fall in SAIC-Volkswagen sales to 70,001 units, while SAIC-GM sales dropped by over 20% to 90,017 units and SAIC-GM-Wuling was down by 15% at 110,000.
Cumulative seven month deliveries were still up by 5.7% at 2,649,831 units with SAIC-GM-Wuling sales rising by almost 17% to 771384 units and SAIC-GM sales up just slightly at 671,856 units, while SAIC-Volkswagen sales fell by over 15% to 602,401 units. SAIC Motor sales were down by just 2% at 50,000 in July but were up by over 19% at 349,355 year to date.
FAW Group sales fell by 28% to 232,345 units in July, with FAW-Volkswagen sales plunging by almost 41% to 99,599 units, while FAW-Toyota sales were flat at 78,710.
FAW-Volkswagen's seven-month cumulative sales were still 7.6% higher at 1,089,493 units, while FAW-Toyota sales were up by over 18% at 503,710 units.
Geely Auto said its global sales, including Lynk & Co, fell by 6% to 99,275 units in July with sales in China down by 8% at 92,221 units. In the first seven months of 2021 global sales increased by 15% to 729,512 units.
Great Wall Motor said its global sales increased by almost 17% to 91,555 vehicles in July and by almost 50% to 709766 year to date, including 74,110 exports.