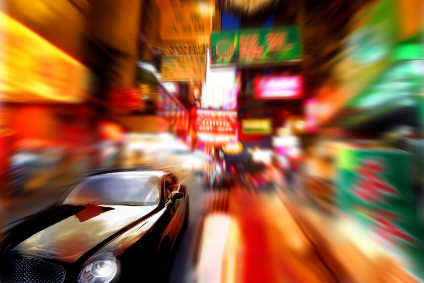 China's new vehicle market declined by a further 12.4% to 2.015m units in June 2021 from 2.3m in the same month of last year, according to passenger car and commercial vehicle wholesale data released by the China Association of Automobile Manufacturers (CAAM).
This was the second consecutive monthly decline for the market which local analysts blamed on continued shortages of semiconductors affecting output among some of the country's key automakers.
Overall vehicle production fell by 16.5% year-on-year last month, according to the association.
Underlying demand for vehicles in the country remained strong with the market having already recovered to pre-pandemic levels driven by strong pent-up demand and low interest rates.
The Chinese economy rebounded by over 18% year-on-year in the first quarter and was estimated to have grown by 7%-8% in the second quarter driven by particularly strong export demand. Expectations for full-year GDP growth average at over 8% for 2021.
New vehicle sales in the first half of the year were still sharply higher, by almost 26% to 12.891m units from 10.257m units in the same period of last year, with passenger vehicle sales jumping by over 27% to 10.007m units while commercial vehicle sales were up by almost 21% at 2.884m units.
Sales of new energy vehicles (NEVs), comprising mainly electric and hybrid-powered vehicles, increased by 139% to 256,000 units in June and by 201% to 1.206m units year-to-date. Passenger vehicles accounted for 1.140m of these while sales of battery-powered EVs amounted to 1.005m units.
The association also reported vehicle exports increased by 154% to 158,000 units in June and by 115% to 828,000 units year-to-date – including 88,000 NEVs.
Manufacturer performance
SAIC Motor reported a 31% drop in group wholesale volumes to 328,621 units in June 2021 while cumulative first-half deliveries were up by 12.1% at 2,297,285 units.
SAIG-GM-Wuling sales increased by almost 26% to 661,384 units year-to-date, while SAIC-GM sales were up by just 4.6% at 581,839 units.
SAIC-Volkswagen reported 7.8% first-half sales decline to 532,400 units after its sales plunged by 55% to 65,000 units in June, while SAIC Motor sales year-to-date were up by 24% at 299,355 units.
FAW Group reported a more than 20% surge in first-half sales to over 1.9m units, with FAW Volkswagen sales up by over 17% at 989,894 units, FAW Toyota sales rose by 21% to 425,000 units and Hongqi sales more than doubling to 145,212 units.
Geely Auto said its global sales, including Lynk & Co-branded vehicles, fell by 9% to 100,163 units in June with sales in China down by 12% at 93,120 units. In the first six months of 2021, global sales increased by 19% to 630,237 units.
Great Wall Motor said its global sales increased by almost 23% to 100,664 vehicles in June and by over 56% to 618,211 units year-to-date including 61,672 overseas sales.
BYD Auto sales rose by over 51% to 51,015 units in June and by over 55% to 246,689 units year-to-date, driven by a 155% surge in NEV sales to 154,579 units.