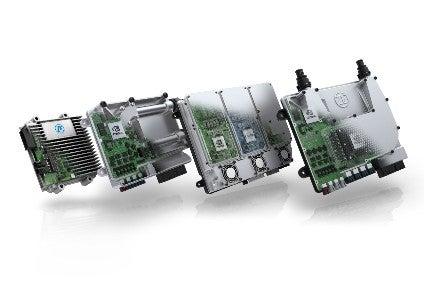 ZF says AI will start to become prevalent across all aspects of its business as the computing power required advances yet further.
At the Consumer Electronics Show (CES) in Las Vegas, the German supplier unveiled the latest iteration of its automotive supercomputer, maintaining it is the most powerful AI-capable processing system in the automotive field.
ZF's ProAI RoboThink is the first system to run NVIDIA's Drive AutoPilot L2+ starting in 2020. ZF's ProAI product family can be configured for any application – from a basic ADAS function to fully autonomous cars, commercial vehicles and industrial applications.
"AI is coming to our company in all areas," said ZF CEO, Wolf-Henning Scheider on the sidelines of the Las Vegas mega-show. "The big turning point is the computing power is there and we have proof with the new ProAI. We will see a lot of functions in all product areas.
"We also use AI today in our transmissions so it goes across the board. Also the plants [are] looking at Industry 4.0 – it is not all limited to these automatic driving functions."
The ZF chief noted the automotive market was "softening" and expected this would continue this year with a longer term flatter outlook than 2018.
"On the other hand, I don't see any necessity to create anxieties," he added. "We don't see a major downturn. We have great partnerships and the reason is we want to give our end customer freedom of choice. That is our strategy and we feel quite comfortable [with it]."
Scheider also ruled out ZF becoming a vehicle producer, noting automobiles should come from OEM sources, while the supplier would remain an enabler: "For us, it is enabling technology, that is our area."
The ZF head also turned his attention to the contentious issue of tariffs and their impact on global business, expressing the desire for negotiations to be settled on the basis akin to the recent North American deal between the US, Mexico and Canada (US MCA).
"Of course it [tariffs] is always a concern and it harm the industry significantly," noted Scheider. "This is definitely a threat to the industry and the sales of everybody. So we hope the various discussion partners come to a right solution as we have seen with the US MCA.
"The main target we have is to run a company in a way we are around in a hundred years."