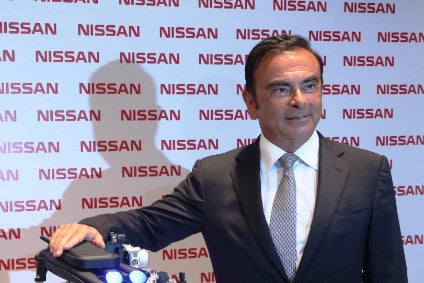 Nissan CEO Carlos Ghosn has met with UK prime minister Theresa May today, in a meeting that follows recent remarks by Ghosn that raised question-marks over future UK investment by the company due to Brexit and uncertainty over future UK-EU trade conditions.
In a statement Carlos Ghosn said that "following our productive meeting, I am confident the government will continue to ensure the UK remains a competitive place to do business. I look forward to continued positive collaboration between Nissan and the UK Government."
Theresa May said that the UK government "is committed to creating and supporting the right conditions for the automotive industry to go from strength to strength in the UK, now and into the future."
She said she was "pleased to have met with Mr Ghosn today to discuss our shared belief that Britain remains an outward-looking, world-leading nation in which to do business. We will continue to work with Nissan as we develop the environment for competitiveness of the automotive industry here in the UK to ensure its success."
In Paris a few weeks ago, Carlos Ghosn outlined his Brexit concerns to a press conference and suggested that Nissan should be compensated if it faces higher costs as result of changed trading arrangements between the UK and EU (eg 10% tariffs on UK exports to the EU under WTO). He stressed, once again, that Nissan's Sunderland plant is a European plant that is sited in the UK.
"Sunderland is a European plant in the UK. I don't know what 'leaving Europe' means and we need to know; we are business people and we judge on facts," Ghosn said.
"At the moment, it is business as usual at Sunderland, and is likely to be so for two years. After that, if there is no tariff [the 10 per cent Common External Tariff applied to fully built-up cars coming into the EU] then nothing changes. But if there are to be tax barriers and other legislative restrictions we will not go ahead with future investment unless we have an undertaking of compensation from the UK government.
"We have already said to the UK government: if you want to know about our future investment, tell us the new conditions. We will not make our decisions in the dark. Sunderland is a great plant (the most productive in the Alliance), we have a long story with the UK, and many of Nissan's top executives are from the UK. We would like to stay, our instincts are to stay, but we cannot if the conditions are not right."
The UK automotive sector is highly integrated with that of its European neighbours, in terms of both supply chains and trade in finished vehicles, and was largely supportive of staying inside the EU in order to secure continued tariff-free and unhindered trade arrangements. After the vote to leave the EU, the debate has moved towards whether or not the UK can still stay inside the EU's single market after exiting the EU in 2019 (under the current timetable for setting terms for the exit). If the UK leaves the single market, falling back on World Trade Organisation rules could mean the imposition of tariffs on exports to the EU (the EU common external tariff – CET – on cars is set at 10%, automotive components at 5%) and that would impact the competitive position of UK-based factories that export a large proportion of their output to other EU countries. Nissan ships around 80% of its UK car output (around 500,000 units a year) to non-UK EU markets.
See also: Ghosn raises Nissan Qashqai question-mark for UK
What do you think of Brexit? Have your say in our survey
Nissan in the UK
Nissan Sunderland Plant produces the Nissan Qashqai, Note and Juke and the electric Nissan Leaf
Production of lithium-ion batteries for electric vehicles began in 2012
Some 476,589 units were produced at Sunderland plant in 2015
In 2015, one in three cars built in the UK was a Nissan.
Sunderland Plant currently employs more than 6,700 people
Nissan's European Design Centre is located in Paddington, London and employs around 65 people
Nissan's European Technical Centre is based in Cranfield, Bedfordshire and employs around 1,000 people
Nissan's sales and marketing headquarters in Rickmansworth, Hertfordshire employs around 220 people