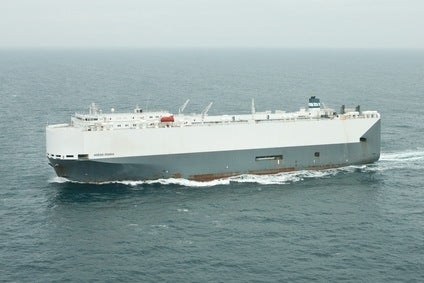 Höegh Autoliners says companies have delivered a Call to Action for Shipping Decarbonisation to the UK presidency of COP26 at the Global Maritime Forum Annual Summit in London.
The Call urges world leaders to take action to align shipping with the Paris Agreement temperature goal.
The Call to Action is backed by more than 200 industry leaders and organisations representing the maritime value chain.
It calls on governments to work together with the shipping industry to deliver policies and investments needed to reach critical tipping points in decarbonising global supply chains and the global economy.
Höegh Autoliners maintains the private sector is taking concrete actions to make zero emission vessels and fuels the default choice by 2030 and decisive government action, as well as enabling policy frameworks, are needed now to reach 2030 and 2050 ambitions
"In our commitment to build a more sustainable maritime industry and combat climate change, we are accelerating our decarbonisation efforts," said Höegh Autoliners CEO, Andreas Enger.
"We have set an ambitious net zero emissions target by 2040 and we believe we will achieve this through investments in future technology and newbuilds.
"To drive the maritime industry to a zero emissions future, collaboration will be key. Through joint action and partnerships, we stand stronger and better equipped to succeed in our long-term climate ambition."
As a signatory of the Call to Action, Höegh is asking governments to:
Commit to decarbonising international shipping by 2050
Support industrial scale zero emission shipping projects through national action
Deliver policy measures that will make zero emission shipping the default choice by 2030
https://www.hoeghautoliners.com/news-and-media/news-and-press-releases/industry-leaders-call-on-cop26-to-commit-to-decarbonize-international-shipping-by-2050