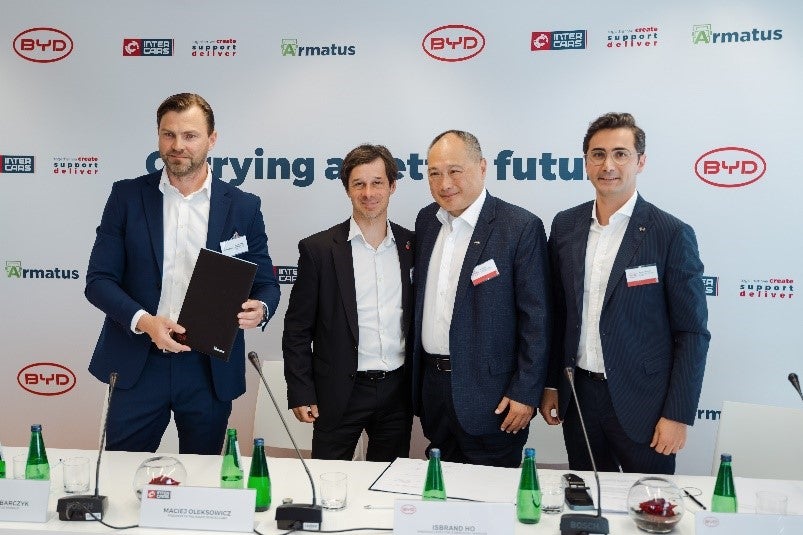 BYD has appointed Inter Cars, which claims to be the largest automotive parts distributor in central and eastern Europe, as the national dealer for its electric trucks and vans in Poland.
Under the agreement, Armatus, a subsidiary of Inter Cars, will hold the franchise for Poland.
The eTruck dealer network will expand to include five locations across the country by the end of this year all offering sales and service.
The company will sell and service the ETP3 panel van designed for last mile delivery, the ETM6 cargo truck ideal for inner city distribution and the ETH8 distribution truck.
Mahmut Mobassit, eTruck sales director Europe, BYD Europe, said: "[Inter Cars and Armatus] extensive experience in automotive related distribution, combined with [our] technology and products, is the foundation for a strong partnership… in Poland.
"As the fourth largest truck market in Europe, there are exciting opportunities for [our] zero emission electric trucks."
Sławomir Rybarczyk, CEO of Armatus, added: "As a European leader in the distribution of spare parts for commercial vehicles, we have created an effective business model which, based on our… well-developed chain of Q-Service Truck garages, efficient logistics and an extensive portfolio of commercial vehicle customers, gives us the ability to quickly bring a new vehicle make to the market, providing for such key issues as a service network. The demand for electric vehicles will increase by leaps and bounds."