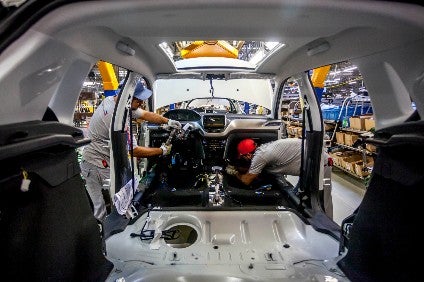 June 2020 output in Brazil of 98,700 units exceeded May's tally by 129.1% but nonetheless was down 57.7% year on year.
The total of 729,500 vehicles (lorries and buses included) produced year to date to 30 June was down 50.5% compared to the first half of 2019.
The reason of course was the effect on this country of the COVID-19 global pandemic.
With dealers locked down (though continuing to trade online), sales of both light and heavy vehicles were lower in May for several reasons, not least the fact new auto registration service offices were closed in most of the federation's 27 states.
The 132,800 units sold last month (domestics and imports) was a 113.6% rise over May and down versus June 2019 by 40.5%.
The first half 2020 tally of 808,800 was down 38.2% compared with H1 2019.
The daily deliveries pace remained around 5,000 units in June while 46 day inventories at both automakers and dealers remained on the high side (30 days is normal) despite a virus related production halt.
National automakers association Anfavea now forecasts 2020 volume versus 2019 at 40% fewer registrations, 45% lower production and a 53% drop in exports, all linked to the expected GDP fall of about 7%.
The expected 1.65m unit production outlook for 2020 was based on a projected 1.675m market taking inventory changes and complete vehicle imports into consideration.
Exports are now forecast at only 200,000 units.
"For sure it is a dramatic perspective, yet realistic due to the spread of the pandemic in the country combined with lower economic activity and reduced consumer income," said Anfavea president Luiz Carlos Moraes.
"This crisis is far worse than those of the 1980s, 1990s and recently 2015/16.
"It came when auto companies were projecting near 10% sales growth [for 2020].
"Such a contraction will have a lasting impact, unfortunately.
"We don't expect the industry to return to 2019 levels until 2025."
Also of concern is the possibility of job losses due to factories reducing work hours.
Nissan has already dismissed 400 workers from its Resende, Rio de Janeiro state plant.
But some forecasts are less pessimistic.
Brazil's largest private bank, Itau, has predicted a GDP fall of only 4.5% which, if confirmed, would effectively reduce vehicle market contraction a little.
Bright Consulting, meanwhile, forecast registrations would fall 29% this year (to about 2m units) with recovery to the 2019 level by 2024.
The consulting firm also expects SUVs to continue taking market share from hatchback models as the lower buying power of hatchback customers limits sales of those more affordable models.
The Brazil auto industry directly or indirectly accounts for some 1m jobs.