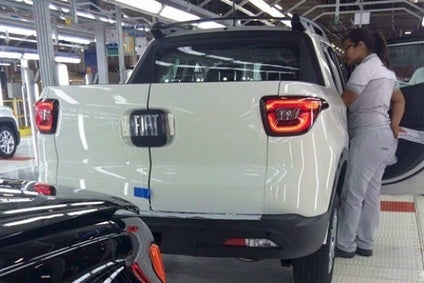 In a move clearly made to counter Renault's (Dacia) Duster Oroch four-door compact pick-up truck introduction two weeks ago, FCA Latin America released the first official photo of Fiat's first ever, medium-size, four-door, crew cab pick-up named Toro. Launch has been delayed and it is now due late in the first quarter of 2016.
Fiat announced few details other than that its new truck is 4.915m/16.1ft long, has a one tonne payload and roomy, top-trim seating for five. It's actually derived from the also-Brazilian-made Renegade with an extended wheelbase and shares the mechanicals of the compact Jeep (1.75-litre/106.8 cu in flexible-fuel ethanol-petrol and two-litre/122 cu in diesel engines), transmissions (2WD and 4WD) and the same, all-independent suspension, albeit much reinforced.
A design highlight is the vertically split and hinged cargo bed gate, a photo of which, taken at the factory in Goiana, in Brazil's northeast state of Pernambuco, was leaked on the internet. The official photo was intended to keep that under wraps till launch with is a front three-quarter view.
The Toro is the first one-tonne pick-up in Brazil with unitary construction and fully independent suspension. The usual layout in this segment is cabin and cargo bed bolted to a ladder-type chassis with a live rear axle. Models already on sale like the Chevrolet S10, Toyota Hilux, Ford Ranger, Mitsubishi L200, VW Amarok and Nissan Frontier (in order of market share) are over 5m/16.4ft long and heavier.
The Toro is expectd to offer top roadholding, somewhat lower performance but better fuel economy among direct competitors, and be competitively priced. Though higher than the Renegade, this will be offset by the lower tax on pick-ups in Brazil. It's classed as a commercial due to the cargo bed while the Renegade is taxed more for being classed as a passenger car.