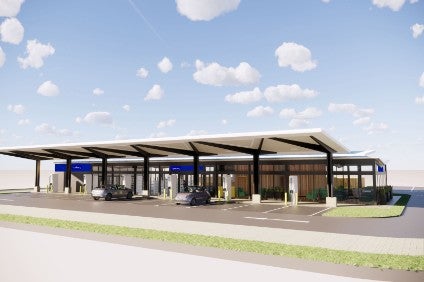 BP Pulse has announced the first charging corridor for medium and heavy-duty electric trucks in Europe.
Six public charging locations with ultrafast 300kw charge points have been launched along a 600km stretch of the Rhine-Alpine corridor across Germany. The corridor is one of the busiest road freight routes in Europe connecting key North Sea ports in Belgium and the Netherlands with the Mediterranean port of Genoa in Italy connecting through a network of roads stretching 1,300km.
The new chargers have been installed on Aral retail sites in Germany between the Rhine-Neckar metropolitan area and the Rhine-Ruhr metropolitan region. Aral is BP's German retail brand. In the next six months, two additional locations are scheduled to open to complete the new charging corridor.
Once complete, using the Aral Pulse charging corridor, an EV truck will be able to cover over 600km across Germany along one of European's major road transport routes.
The 300kw charging stations are each capable of charging 20 trucks per charger each day. Range can reach up to 200km in around 45-minutes using the ultra fast charge points .
The Aral retail sites offer access to hot food, restrooms and showers for drivers to use during a mandatory rest period in addition to dedicated charging in safe, well-lit and convenient locations.