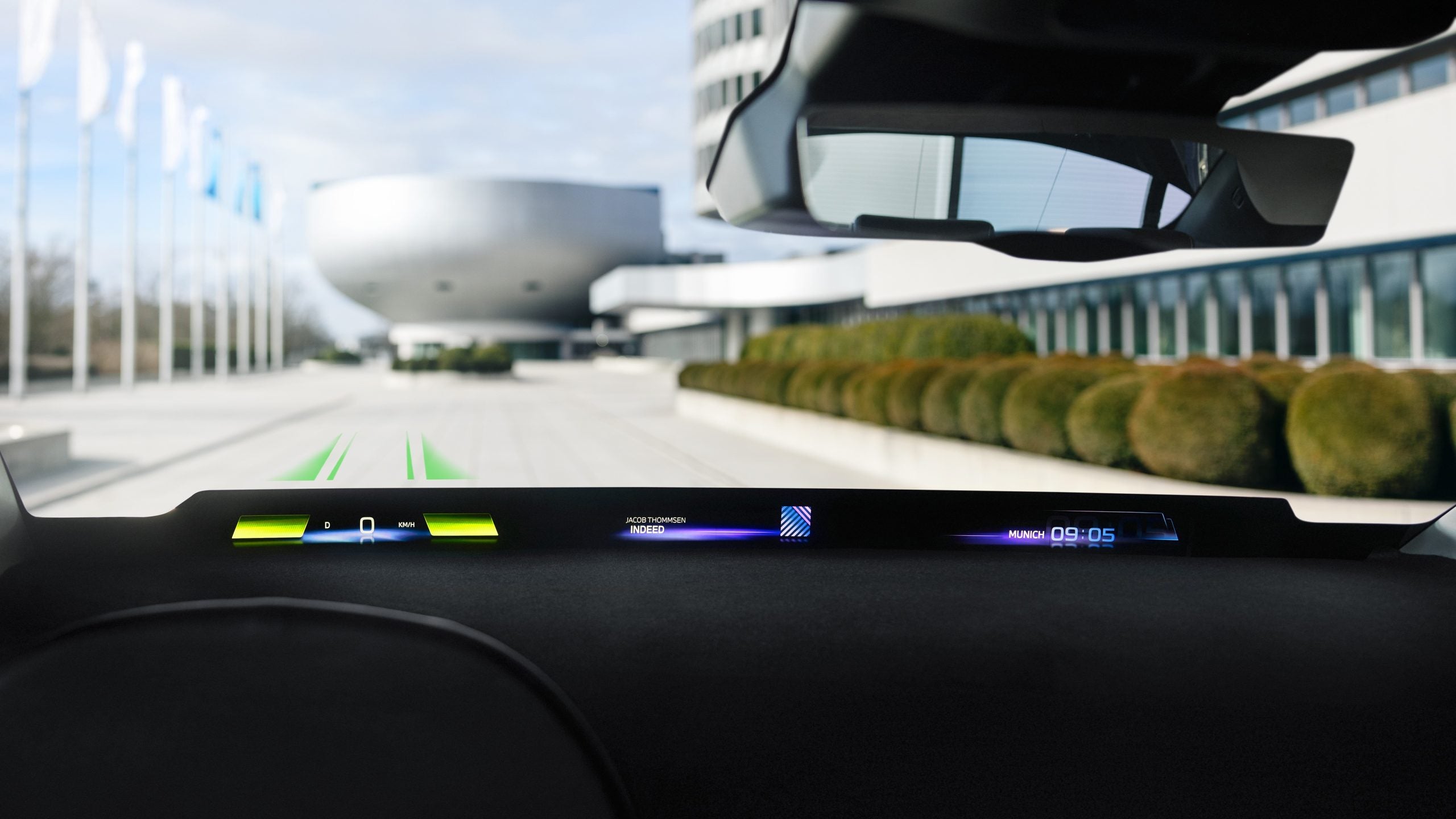 BMW's new head up display (HUD), called Panoramic Vision, goes into production with the upcoming first Neue Klasse models, chairman Oliver Zipse confirmed at the automaker's 2023 annual conference.
The automaker is developing a completely new technology platform for the new model line (its name refers to the its pioneering 1960 models). This platform will "set new standards in digitalisation, sustainability and design for electric cars", BMW claimed.
The new HUD, projected across the entire width of the windscreen, creates "a unique interaction and information surface for all occupants", BMW said.
Development chief Frank Weber described the main advantages: "The windscreen becomes a single large display, opening up completely new possibilities for the design of our vehicles [where] the driver decides which information they want to display in their own field of vision or [to allow] all occupants [to] see the entire content.
"The revolutionary projection and the significantly more clearly structured cockpit give an impressive new feeling of space and driving. We are the proven 'eyes on the road – hands on the wheel' [concept] to a new level."
BMW said Panoramic Vision shows information relevant to driver and passengers with a higher light intensity and contrast on a dark coated area at the lower edge of the windscreen. This creates an extremely sharp image that is always visible across the full width of the windscreen. Information relevant to the driving situation is always available "in the right place at the right time".
The Neue Klasse has a new iDrive control system, the latest evolution of the system launched with the redesigned 7 Series in 2001 which comprehensively reduced the number of switches and buttons "like no other control system before, creating a modern, uncluttered interior", according to the automaker. The first production HUDs soon followed.
The i Vision Dee concept vehicle revealed at the 2023 Consumer Electronics Show last January showed how an extended HUD also be used for display control design and an immersive user experience in future. The concept demonstrated the fusion of reality and the virtual world by turning the windscreen into a projection surface and the new Panoramic Vision is the first production use of that technology.