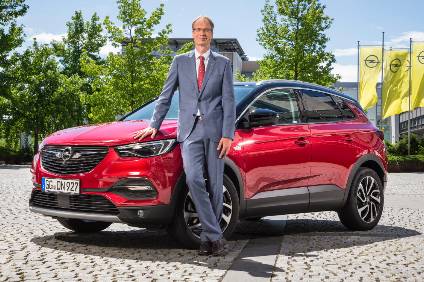 The recent news that Opel/Vauxhall is now profitable after years of losses under previous owner General Motors has been accompanied by an upbeat assessment of opportunities ahead for the under-pressure division now owned by Groupe PSA.
Last week, Opel/Vauxhall posted a half-year profit of EUR502m and an operational free cash flow of around EUR1.2bn. Cutting the company's labour bill with voluntary redundancies is one major plank of the plan to keep it profitable; another is savings on procurement and efficiencies on use of Groupe PSA resources.
"We are a completely different company than 12 months ago. We have set the course for even more competitiveness and have already aligned many areas for the future. We are profiting massively from being part of the successful Groupe PSA. We are very grateful for this – and this is also an obligation," says Opel CEO Michael Lohscheller.
Opel says that the first half improvement shows that the competitiveness of the brand's network of production plants throughout Europe was significantly improved. Together with the social partners, Opel says its management has reached performance agreements at all European sites. This has already led to new investment decisions and product allocations across Europe.
For example, the new Corsa – also in an electric version – will be produced exclusively at the Spanish plant in Zaragoza. The next generation of the Vivaro will roll off the assembly line in Luton, England, from 2019. The Grandland X SUV will be manufactured in Eisenach from the middle of next year – including a hybrid version that will follow by 2020. New product allocations were also announced for the engine and transmission plants in Tichy (Poland), Aspern (Austria) and Szentgotthard (Hungary). Details of the planned investments in Ruesselsheim and Kaiserslautern 'will be announced in due course'.
Ruesselsheim's engineering centre's 'important role'
Opel stresses that there is an important role for Ruesselsheim's engineering centre, despite recent suggestions that parts of it could be for sale as part of a broader operations review as part of integration with other Groupe PSA facilities.
Opel says the engineering centre has fifteen centres of competence for various areas of technology and responsibility for the development of light commercial vehicles as well as the next generation of four-cylinder petrol engines. The abilities of the various competence teams, it says, 'ideally complement each other as part of a global network – for the benefit of all five group brands (Opel, Vauxhall, Peugeot, Citroën and DS Automobiles)'. In addition, all new Opel/Vauxhall vehicles will be developed in Ruesselsheim in the future.
"At Opel/Vauxhall, the group's top technologies meet German engineering excellence. This results in outstanding vehicles with a clear profile and emotional design," says Lohscheller. "We have always stressed that Opel remains German and Vauxhall remains British. We have further sharpened our brands in the past twelve months and I am very much looking forward to our new concept car, with which we will present our future brand face."
Electrification of the product portfolio
Next year a new Corsa is due and will include a purely battery-powered electric version in 2020, which means that Opel/Vauxhall will already have four electrified vehicles on offer in 2020. By 2024, an electrified version will be available in every European passenger car line, Opel says, either with pure battery drive or as a plug-in hybrid. This will be possible by the 'prompt use of Groupe PSA's multi-energy group platforms'.
Exports to markets beyond Europe to double by 2020
With new importers in Morocco, Tunisia, South Africa and Lebanon, the company says it 'forges ahead with its goal of doubling sales outside of Europe by 2020'. Opel models will be assembled in Namibia from the second half of the year. By the middle of the next decade, more than ten per cent of Opel's sales volume is to be generated outside of Europe, Opel says. It also acknowledges that it can successfully uses existing Groupe PSA structures for these new market activities – in distribution for example.