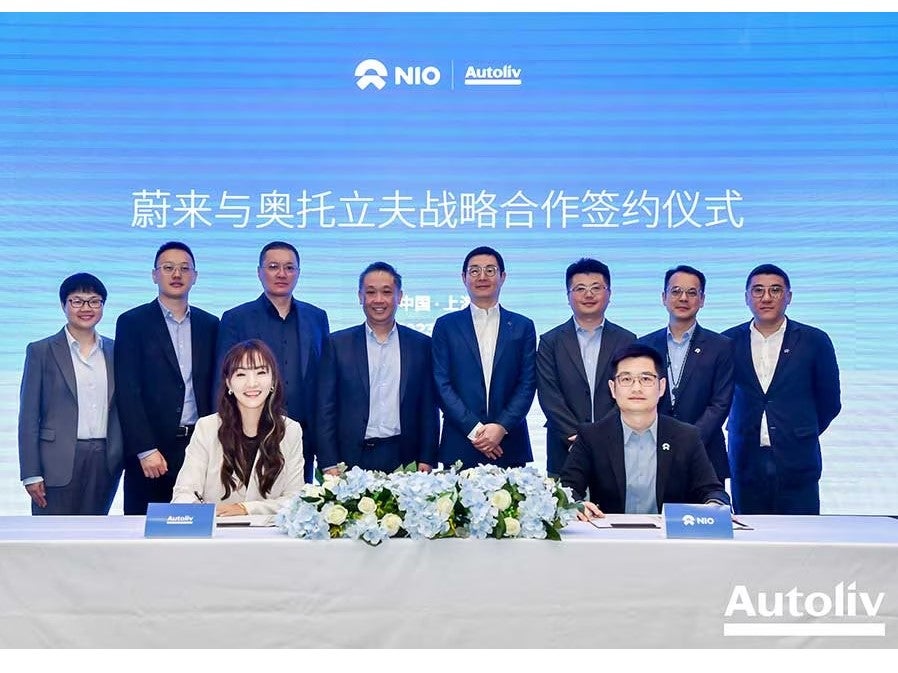 Autoliv's Chinese subsidiary (Autoliv China) has signed a strategic cooperation framework agreement with China-based electric vehicle maker Nio.
The collaboration includes several new safety technologies for electric vehicles with a 'focus on sustainable solutions'.
Nio describes itself as a new 'premium electric vehicle company with a vision of creating a brighter and more sustainable future by providing smart vehicles, services, and user community'. Autoliv said the 'strategic cooperation between Nio and Autoliv marks a significant milestone in our shared objective to redefine the way people experience transportation'.
Under the agreement, Nio and Autoliv will develop safety products for electric vehicles and sustainable technologies. The new technologies will include a passenger airbag that deploys from the headliner using an environmentally friendly inflator. They are also co-developing a 'new airbag concept that provides full protection for different seating positions'. This, the companies maintain, allows for better protection, and more freedom to design the interior of the vehicle. It also includes biology-based materials for both airbag cushions and seatbelt webbing.
"Nio is a pioneer and leading electric vehicle company in the Chinese market. Together, Autoliv and Nio will bring safety and innovation to the market that will reshape the future of mobility," said Mikael Bratt, President and CEO, Autoliv.
"This strategic partnership marks a new milestone for Nio and Autoliv. We have a shared commitment to innovation and sustainability, and we expect the cooperation will be extended to more areas, as we strive to enhance the driving experience and provide pleasant journeys for all global users," said Yu Pan, Vice President of Supply Chain Development at Nio.
"We will work closely with Nio's talented team, pooling with Autoliv's knowledge and strengths. Our cooperation will not only elevate the driving experience but also reinforce our shared objective to create a safer and a more sustainable future for mobility," said Sng Yih, President, Autoliv China.