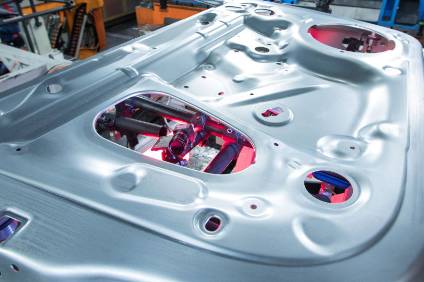 Audi plans to apply machine learning (ML) in series production. The application is quality inspections in its press shops.
The software Audi has developed, it says, recognises and marks the finest cracks in sheet metal parts – automatically, reliably and in a matter of seconds. With this project, Audi is promoting artificial intelligence at the company and revolutionising the testing process in production, it says.
Audi currently inspects all components directly after production in the press shop. In addition to visual inspection by employees, several small cameras are installed directly in the presses. They evaluate the captured images with the help of image-recognition software. This process will soon be replaced by an ML procedure. Software based on a complex 'artificial neural network' operates in the background of this innovative procedure, the company says. The software detects the finest cracks in sheet metal with the utmost precision and reliably marks the spot, Audi claims.
"We are currently testing our automated component inspections for series production at our Ingolstadt press shop. This method supports our employees and is another important step for Audi in the transformation of its production plants into modern smart factories," stated Jorg Spindler, head of the Competence centre for Equipment and Forming Technology.
The solution is based on deep learning, a special form of machine learning that can operate with very unstructured and high-dimensional amounts of data such as with images. The team spent months training the artificial neural network with several million test images. The biggest challenges were on the one hand, the creation of a sufficiently large database, and on the other hand, the so-called labelling of the images. The team marked cracks in the sample images with pixel precision – the highest degree of accuracy was required. The effort was worth it because the neural network now learns independently from the examples and detects cracks even in new, previously unknown images. The database consists of several terabytes of test images from seven presses at Audi's Ingolstadt plant and from several Volkswagen plants.
"Artificial intelligence and machine learning are key technologies for the future at Audi. With their help, we will continue to sustainably drive the digital transformation of the company," emphasised Frank Loydl, chief information officer (CIO) at Audi AG. "In this cross-divisional project, we are jointly developing a production-ready solution that Audi will use exclusively in the company and which is unique in the market." The software was mainly developed in-house, from the idea to the finished prototype. Since mid-2016, the innovation department of Audi IT has been working hand in hand with the Production Technology division of the Equipment and Metal Forming Technology Competence centre.