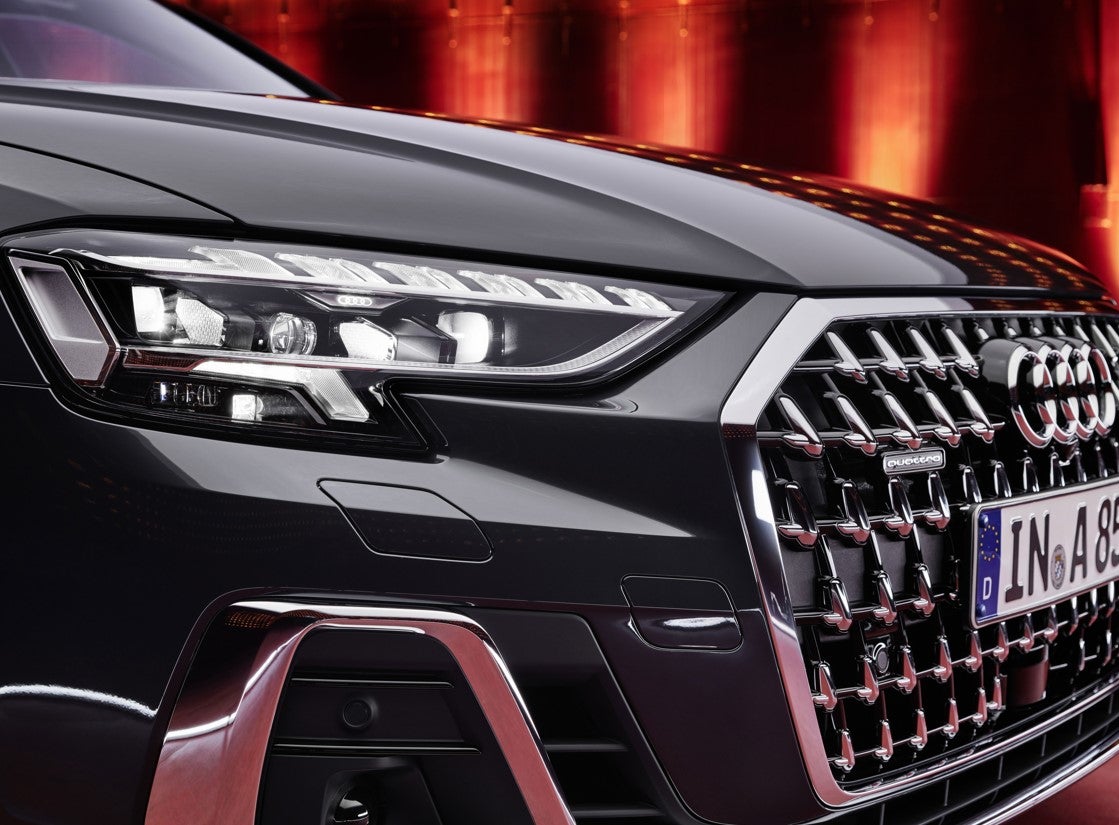 Audi's refreshed A8 model features new 'digitized light' technology which it says is comparable with video projectors and delivers greater safety.
The 'digital matrix' LED headlights use DMD (digital micromirror device) technology. Each headlamp contains approximately 1.3 million micromirrors which disperse the light into tiny pixels, which means that it can be adjusted with the greatest precision, Audi claims.
One new function that this enables is lane and orientation lights for highways. Here, the headlights emit a carpet of light, which illuminates the driver's lane particularly brightly. Above all, the orientation lights particularly help drivers intuitively stay in their lane at road construction sites, it is claimed. The digital matrix LED headlights can generate dynamic coming home/leaving home functions upon unlocking and leaving the car, too. They shine like projections on the ground or the wall, Audi says.
The refreshed A8 also comes with digital OLED rear lights (OLED = organic light-emitting diode) as a standard feature. When ordering the car, there are two rear light signatures to choose from – three with the S8. When the "dynamic" Audi drive select mode is chosen, the lights change to a further signature that is only available in that mode.
In conjunction with the assistance systems, the Digital OLED rear lights have a proximity indication feature: if another vehicle comes within two meters (6.6 ft.) of a stationary A8 from behind, all the OLED segments are activated. Additional functions include dynamic turn signals as well as coming home and leaving home sequences.
Ordering in the UK for the refreshed A8 begins on December 2, with the first customer deliveries due in the second quarter of 2022. The starting price for A8 is GBP73,375 with long wheelbase starting from GBP77,375. The S8 is priced at GBP99,650.