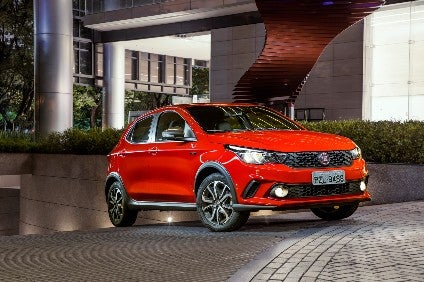 Compact hatchbacks are still the preference of the majority of Brazilian car buyers despite the rising number of SUVs and crossovers on sale. Meanwhile 2017 is becoming known for redesigns and technology updates at a level seldom seen in the history of the local industry. The first of the new hatchback breed to arrive is the Fiat Argo, of which sales have started already, while the new Volkswagen Polo will take a little longer.
The new Fiat compact is not a world design but the local development work done in Betim, Minas Gerais state shows strong competence. The basic architecture is from the Punto predecessor but with a higher degree of refinement.
Highlights are a very attractive appearance, the plushest interior yet from the brand, utmost care with door sealing to assure closing with a top quality feel and sound, plus convenience details such as footwell lighting.
By offering three engine options – one litre, three-cylinder (71/76bhp) and two four cylinder motors of 1.3 litres (99/107bhp) and 1.75 litres (133/137bhp) – and three gearbox options – five-speed manual and automated manual plus a modern six-speed epicyclic automatic – it is clear that Fiat has decided to directly oppose each competitor.
These include the Chevrolet Onix, Hyundai HB20, Ford Ka, VW Gol, Renault Sandero, Toyota Etios, Peugeot 208 and Citroen C3 (in selling order last month). There are three Argo trims – Drive, Precision, HGT – with prices (with no options) ranging from BRL46,800/IS$15,200 to BRL70,600/$21,700.
The Argo thus represents a swing away from the Italian brand's usual concept of lower prices at any cost.
So there is no more apparent cost saving through cheap linings, crude dashboard air outlets, burred plastics, poor multimedia screens (in this case, a seven inch, tablet shape, high definition unit is used) or omitting Isofix child seat retainers. The only weird item is height and distance adjustment for the steering wheel in top versions but height only for the more affordable one.
More efficient headlamps and a refined audio system indicate newly sought goals.
Interior roominess matches that of the Onix (the absolute, stand alone market leader) but with 7% more boot space of 300 litres (Onix has 280 litres).
Performance was satisfying during our first drive, especially the more powerful version. The 1.3-litre engine suffers from a lack of torque for its 1,148kg kerb weight. The one litre was not available for a launch drive so we assume low performance.
Cornering behaviour is exemplary although the HGT was fitted with the optional larger section tyres. To a driving position quite better than other Fiats (less raked and lower steering column), prompt and progressive directional response has been added.
Yet excessive accelerator pedal travel has been carried over from other Fiats. The automatic gearbox works with no lag or shudder. Even seatback adjustment by a rotary knob is an improvement from the poverty standards of the brand.
Fiat expects to build 6,000 Argos monthly which, if added to the 9,000 Uno, Mobi and Palio combined, would give the FCA automaker ideal conditions to resume the limelight lost in the last two years of model and sales downturn.