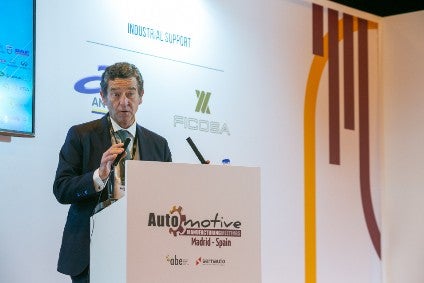 Spain's automotive sector is optimistic the formation of a new government will see the industry well represented at the top political echelons.
Madrid is currently wrestling with appointing a new government following yet another general election in just a few years, but acting Industry Minister, Reyes Maroto is winning plaudits from Spain's automotive association, ANFAC.
"Spain has been through four years of instability with governments," ANFAC (Asociación Española de Fabricantes de Automóviles y Camiones) EVP, Mario Armero told just-auto on the sidelines of the recent Automotive Manufacturing Meetings conference in Madrid.
"Now, it is an acting government and there will be a new [one] in the coming weeks. The Minister of Industry [Maroto] will understand very well the automotive industry and she has a clear [aspiration]. We have work to do with other members of the government.
"We need training programmes that make sense. Spain [spends] EUR1.8bn (US$2bn) on training – funds which come from Europe and Spanish companies. We should channel these funds to the new skills that are needed in factories. It is inefficient at the moment – training grants are not working.
"Clearly Spain is a big player in terms of automotive suppliers and car manufacturers – we manufacture 45 models in Spain. We have a very good range spread not only in Madrid and Barcelona, but around the entire territory. It is being fed by new models."
However, the robustly rising sales of recent years have started to stall as growth in developed countries starts to slow. Nonetheless, Spain's automotive sector remains huge and although lagging some considerable way behind tourism, still contributes a massive 10% of GDP through its supplier and OEMs.
Only this morning (2 July) however, came news of a probe by the European Commission into State aid made available to PSA for its Vigo plant, although a spokesman for the French automaker told just-auto: "This investigation on criteria is a standard process in the State aid procedure."
The ANFAC EVP also noted some of the new challenges his industry faced including cities themselves becoming customers as they attempt to grapple with rising urban populations, triggering the need to proscribe car use to ease congestion.
"That is a trend we have to acknowledge," added Armero. "We are transforming ourselves from the car industry to the mobility industry. We are one of the leaders in Europe. In not so many industrial things [has] Spain leadership as we have in automotive.
"One thing for sure, there is a new ecosystem and we need all the players. We think this [new mobility] could be a EUR300bn business for Spain."
Armero also called for "balanced" Free Trade Agreements as the debate surrounding them and tariffs shows no sign of abating.
"We like Free Trade Agreements," said Armero. "We don't have to be waking up in the morning with strange news about duties."