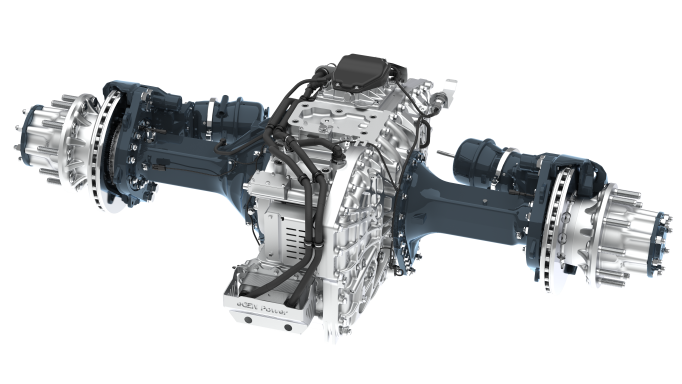 Hino Trucks has selected Allison Transmission to develop e-axles for Class 6, 7 and 8 Battery Electric Vehicle (BEV) trucks.
The two companies have signed a joint collaboration agreement (JCA) that extends long standing conventional transmission supply deals.
Hino will integrate Allison's eGen Power 100D e-Axle into its vehicles with the start of low volume production scheduled for early 2023.
Hino announced Project Z in October 2020 and has continued collaborating with Allison since then in designing BEV products tailored for the North America medium and heavy duty commercial vehicle markets.
Allison also announced the launch of  the eGen Power 100S e-axle which incorporates several of the core components offered in the eGen Power 100D, and packages these into a lighter and more compact design best suited for class 6 and 7 vehicles, and in a tandem configuration for class 8 6×4 vehicles.
Hino will be the first global OEM to install the new e-axle.
Single and dual motors respectively integrate with a multi-speed transmission, eliminating the need for additional driveshafts and support structures. With each motor capable of delivering continuous power of 28 horsepower (212 kilowatts) and peak output power of 434 horsepower (324 kilowatts), the eGen Power 100S, 100D and 130D are said to be among the most power-dense propulsion products in their classes.
The e-Axles are designed to be 100% maintenance-free for the life of the vehicle, significantly reducing downtime and reducing total cost of ownership advantage.