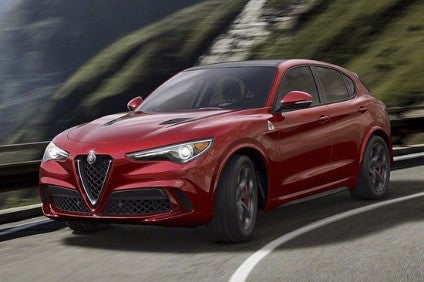 Alfa Romeo is trying to revive its appeal with Americans and improve profitability by introducing its first sport utility vehicle.
The mid-sized Stelvio, targeting luxury rivals like BMW, will be launched at the Los Angeles Auto Show on Wednesday. According to Bloomberg, the Stelvio is vital to Alfa Romeo parent Fiat Chrysler Automobiles' plan to sell higher-margin, upscale cars and comes as car sales in the US, Fiat's biggest market, start to slip after six straight years of gains.
"The Stelvio has all the ingredients to eventually become Alfa Romeo's best seller," Ian Fletcher, a London-based analyst for IHS Automotive, told Bloomberg. "To do it right, the SUV should really feel like a premium product with an Italian flair."
The news agency said the Stelvio's American debut was critical to the brand's revival as the automaker, which generates the lion's share of its profit in North America, is bracing for slowing growth in the US by shifting production to higher-margin pickup trucks and SUVs.
The Stelvio goes on sale in 2017, priced around US$40,000, and will compete with mid-sized SUVs such as the Audi Q5 and BMW X3.
Bloomberg said the Stelvio is Alfa Romeo's third US offering, following its re-entry two years ago with the 4C sports car, and the current launch of the mid-sized Giulia sedan. Alfa may unveil a station-wagon version of the Giulia at the end of next year and also expects to release a new full-size flagship sedan in 2018, the report added.
Stelvio and Giulia may boost Alfa Romeo's global sales – by more than 60% in 2017 to about 140,000 cars, according to an IHS forecast – the brand remains a niche player with BMW and Mercedes-Benz each expected to sell about 2m cars next year.
Unveiling the Stelvio in Los Angeles shows how important Fiat considers the US market to be for Alfa Romeo's resurgence, Bloomberg noted.
Finally conceding to growing demand for SUVs lets Alfa Romeo, which is traditionally focused on sedans and sports cars, tap US demand for large cars as other segments shrink, the report added.
According to just-auto's product life database (PLDB), the much delayed new model will be built at FCA's Cassino plant in Italy.