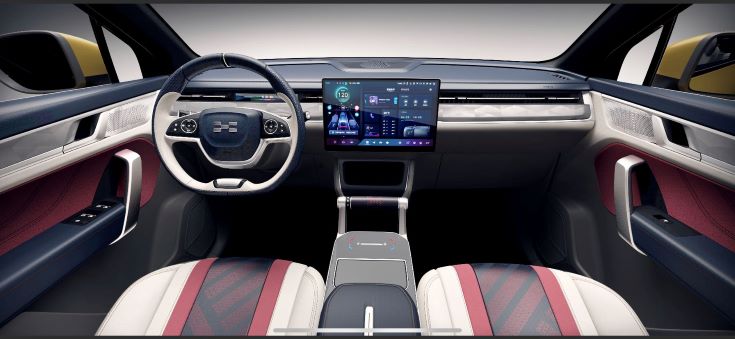 The Aiways U6 cabin will come in blue and white or black and orange colour schemes while black and blue with carbon fibre inserts will be in a special edition variant.
German audio supplier Magnat has developed two speakers for each front headrestand the  wide gearshift lever is reminiscent of a style used in 1960s US cars. It doesn't appear to move, though – it looks like drivers will simply twist the handle to select driving range. A 2.1m domed glass roof – not yet illustrated – is standard.
A 14.6-inch frameless, high-definition central control screen is the main attraction of a symmetrical dashboard and a second, 8.2-inch screen is in front of the driver.
Smart Cruise Control (SCC) has includes automatic lane centering, highway assist matches speed with the vehicle in front and a new Driver Confirmed Lane Change (DCLC) function makes lane changes automatically. Remote Parking Assist allows the car to be parked from outside using a smartphone, within 10 metres.
Aiways is slowly expanding into export markets and is taking orders for its earlier U5 in Germany, the Netherlands, Belgium, Denmark, France, and Israel.