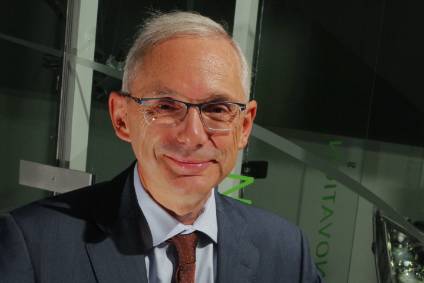 Partial driver autonomy already exists in the form of automated parking systems and advanced driver assistance features. For its part, Valeo is pushing back the technical boundaries of automation to address increasingly complex urban driving situations. Continuing just-auto/QUBE's series of interviews with tier one component suppliers, we spoke to Guillaume Devauchelle, Group Vice President Innovation & Scientific Development, Valeo about its driver assistance and mobility solutions.
Valeo is an automotive supplier and partner to automakers worldwide. It is structured around four business groups, namely Comfort & Driver Assistance Systems, Powertrain Systems, Thermal Systems and Visibility Systems. Valeo's Comfort & Driver Assistance Systems business itself comprises three product groups, namely Driver Assistance Systems; Interior Controls; and Connected Car. Its Driver Assistance Systems product group is a market leader in parking and driving assistance. This product group designs ultrasonic sensors, radars and cameras that are used in conjunction with apps to detect obstacles around vehicles. The Comfort & Driver Assistance Systems' business employs 22,900 people at 27 production sites, ten development centres and eight research centres. Over the coming months, just-auto/QUBE's interview series will cover Valeo's other business groups.
Given that increasing levels of driver automation require more sensors to be fitted to the car, where are Valeo's strengths?
Valeo has a unique sensor portfolio which includes an infrared Laser Scanner (only one currently in serial application), cameras (including unique 360° cocoon cameras and state-of-the-art front camera), radars and ultrasonic sensors (market leader).
On top of that, Valeo offers data fusion capabilities enabling object detection, classification, trajectory planning, up to fully functional 'turnkey' systems.
Most of these bricks use Artificial Intelligence, including Deep Learning, Imitation Learning, etc.
In addition, Valeo has the most comprehensive sensor cleaning portfolio to maintain the functionality whatever the weather conditions.
LiDAR is said to be the most important of the sensor suite that enables the different levels of driver autonomy. Yet one of the challenges for manufacturers with this type of sensor, in particular, is to find reliability and robustness along with economic viability. How does your solution address this?
Being the first in the market with Valeo SCALA Gen 1 [laser scanner] provides a competitive advantage to Valeo with a real size field experience and industrial learning curve.
Valeo has already announced the SCALA Gen 2, twice as powerful in the same packaging and a Solid State SCALA Gen 3.
This offer has been very well received by automotive OEMs and new mobility players.
Could you summarise the stage of development your Cruise4U has reached?
Valeo Cruise4U is a fully functional platform to be used for development and demonstration purposes. This platform has been checked and authorised to run on the open road by various authorities from different countries. It relies on Valeo sensors and 'standard' computing hardware. This architecture allows us to permanently improve the system (new software bricks, safety concept, and different use cases) with 'ground truth' capabilities, i.e. system behaviour versus expected functionalities.
By this time next year, what commercial success do you hope to have achieved with Drive4U.ai?
Drive4U.ai is a demonstrator showing Valeo's capability to run a car without any explicit rules (Imitation Learning only). Drive4U was not invented to be sold as a standalone operating system but to support the mainstream control chain (based on more conventional AI) to make it more user-friendly and more secure (allowing true redundancy as based on very different algorithms).
We understand that Valeo is developing augmented reality head-up displays. What stage are you at with AR-HUDs?
AR-HUDs require large field of view HUDs, eye tracking to match reality and added information and scene understanding to display interesting information only.
All these bricks have various applications, such as driver monitoring for eye tracking.
We are hearing more about monitoring the health and wellbeing of the vehicle occupants, especially with the autonomous car on the horizon. What role is Valeo playing in this area?
Valeo is currently developing interior cameras for driver monitoring, and various sensors and actuators, first for safety of ADAS and autonomous driving. Valeo is also developing air quality and air conditioning systems. The next step is to combine these systems to offer health and wellbeing features with very limited costs.
What does the trend for shared mobility mean for Valeo in terms of its products, technologies and manufacturing?
Valeo is preparing for shared mobility and more generally all the 'new mobility' business models by providing the key technical bricks which include those already mentioned plus connectivity. Several initiatives are ongoing with Mov'InBlue*, Docomo**, etc.
How do you see the autonomous car changing the look and feel of the cockpit?
The cockpit is only a part of a completely new 'interior experience' which includes different MMI, different airflow and lighting ambience. This requires new competencies such as ethnologists and philosophers, working together with engineers and designers.
* Mov'InBlue™ is a solution for secure fleet reservation and management, based on the Valeo InBlue® intelligent key technology which allows the driver to lock, unlock and start a vehicle using a smartphone. It allows rental companies to offer their clients a digital alternative, from vehicle pick-up to return, without the constraints of an agency (i.e. counters, opening hours, waiting lines, vehicle localisation).
** Last April, Valeo signed an agreement with NTT Docomo, Japan's leading mobile phone operator, to co-develop next-generation connected-cars and mobility services. Docomo works for the wide usage and promotion of the Internet of Things (IoT) in the automotive domain, among others, through the 5G mobile communication network planned for commercial use in 2020 and mobile networks such as IoT. Under the agreement, the partners are combining their respective expertise and solutions to offer telecommunication services and onboard equipment for connected cars, including next-generation mobility services in the era of 5G/V2X, digital services for cars using smartphones, and enhanced controls for onboard equipment.