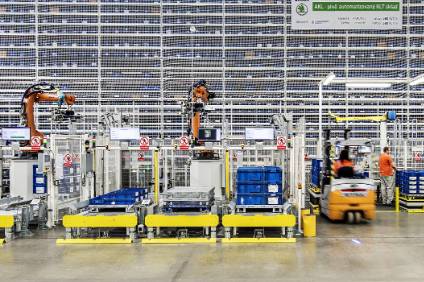 We spoke to Ed Nabrotzky, Director, Sales & Strategy at Panasonic Logiscend for an update on latest trends.
JA: We have been through a tumultuous year and supply chains are coming under examination like never before. What do you see as the main challenges and trends impacting supply chains and manufacturing logistics generally – especially in the wake of the pandemic?
EN: Like practically every industry, manufacturing remains significantly impacted by COVID-19. Reductions in orders, employment, and production were among the results many manufacturing companies faced at different times in 2020 due to the pandemic. And now, consumer demand is up significantly but long supply chains, such as the global chip market, cannot catch up quickly.
This is causing a crisis in markets such as automobile and consumer electronics production. Production output has been drastically reduced and product launches have been put on hold.  We'll pull out of this as operations resume more broadly, but perhaps the longer lasting challenge for the USA will be the geopolitical pressure to shift those supply chains away from China.
JA: Do you think the pandemic has accelerated some trends?
EN: As manufacturers look for innovative ways to maintain efficiency and meet customer demand, the industrial internet of things (IIoT) offers an effective solution to several challenges in the era of COVID-19. We think that the adoption of Smart Manufacturing and the use of data and analytics to make continuous improvements will be accelerated in the wake of the pandemic.
By providing real-time tracking solutions of people, parts, and processes, IIoT technology is an important means for manufacturers to control costs, improve efficiencies, maintain productivity, and support the health and safety of employees and customers during the global pandemic and beyond.
JA: Where does the Panasonic Logiscend offering fit in and how would you describe smart material flow within the factory enterprise (warehousing to assembly line)?
EN: The Panasonic Logiscend System is a material flow management solution for complex, discrete manufacturers seeking more flexibility and lower costs. The Logiscend system replaces paper-based processes with a digital solution – creating "smart materials". The solution utilizes a unique combination of software and wireless RFID/e-paper Panasonic VIEW tags that help manufacturers get the right parts to the right place at the right time, cost effectively and efficiently. There is no change to the existing systems that schedule and plan the operation … Logiscend Software extends them by providing real-time visibility of the material flow on the factory floor and enabling maximum flexibility for the plant manager to make changes as needed.
User friendly dashboards provide management data visibility to uncover hidden continuous improvement opportunities. The system is a single but scalable turnkey solution with a suite of application modules for Picking, Replenishment, Asset Tracking, Smart Container Management and Work Instructions and can be easily integrated with existing ERP and MES systems.
JA: If this is a Turnkey system, how much hardware infrastructure is needed to enable it?
EN: The Logiscend hardware consists of tracking technology that best meets the needs of the application. We have deployed passive and active RFID as well as our differentiated Panasonic VIEW tags that combine the trackability of RFID with the readability of e-Paper. The unique aspect of the Logiscend system is that there is one set of infrastructure (software + hardware) to solve many material flow problems. Our customers can get started in one area and easily expand to include their other material flow applications. One turnkey solution instead of deploying multiple systems.
JA: Is the software side cloud-based?
EN: It can be, but in most instances our software is hosted on-premise as our customers have demanded. They do not want any disruption to production and are concerned with a cloud-based solution being remote from the manufacturing lines as well as the security risks it could pose. We view this changing in the future, however, as their perception of the cloud changes to realize it is more reliable and secure and managers become more open to change.
JA: We are hearing a lot about digital solutions, but are we still in the realm of paper systems and barcodes for many firms?
EN: We are very much still in the realm of paper-based systems. In fact, a recent survey that we conducted reports that over 80% of engineers in automotive manufacturing said their material flow processes still rely on "lots of paper". There is a great deal of opportunity for these companies to take some small steps and realize big savings.
JA: How does the 4th Industrial Revolution (or Industry 4.0) impact the picture?
EN: The First Industrial Revolution was the idea of using water and steam power to mechanize production. The Second leveraged electric power to create mass production. The Third ushered in the age of using electronic devices and local networks to automate production.  Now we are taking a huge step into a 4th revolution of interconnected systems that go well beyond the mechanics of the production line, linking demand to supply in a completely interconnected digital thread that is unprecedented in our history.
The rocket fuel for this revolution is inescapable consumer demand for personalized service, forcing a transition in the industry from mass production to mass customization. For automotive manufacturers, this means producing batch-of-one vehicles with variations specific to a customer at the same or better costs and quality achieved with large batch scheduling.
So, how can automotive manufacturers meet the increasingly difficult complexity this drives in their operations? It is clear that the traditional paper-based, inflexible and labour-intensive systems can no longer keep-up in this customized world. A key part of the solution is to move from Just-in-Time delivery to Just-in-Sequence inventory management, enabling all parts to arrive in concert at the right place at the right time to build a batch-of-one vehicle. This helps keep inventory on the plant floor low and simplifies the assembly process for operators.
Increased demand for customization means modern material handling needs to be more than just lean, it must be flexible as well. With Just-in-Sequence manufacturing, different product models can be produced efficiently on the same assembly line with less handling and greater accuracy. So manufacturers need to look to 4th revolution material flow management solutions with interconnected systems that can meet these new demands.
JA: Compared with other manufacturing sectors, Is the automotive industry a leader or a laggard in these advanced logistics and smart material flow areas?
EN: I would say that most manufacturing is slow to change and could be considered a laggard behind consumer e-commerce fulfilment operations.  The online retail industry is leading the pack in leveraging interconnected systems.  We have come to expect to order exactly what we want from Amazon and to know when it is being picked, shipped and tracked to our doorstep.  These expectations are starting now to be put on capital goods and automobile manufacturers and they know they need to learn to adapt or else they will lose to new market entrants who understand the changing market requirements.  They are behind, but they are all focused on making the changes to catch up.
JA: Can you describe e-paper and its importance in tracking materials and assets?
EN: The problem in manufacturing is that assets can be stored or sit for a relatively long time between transformation steps and the operation needs to know what the assets are. Putting a long lasting static paper label on it suits that use case, as well as providing a good human readable set of information for operations personnel. The advantage of e-paper is that in basic use it performs exactly like paper without the recurring cost or environmental impact.  However it offers several interesting additional capabilities beyond this. It can be dynamically changed at any time in the process wirelessly … a big feature for our new world of fast customization in processes. That wireless connection also allows for real-time tracking, enabling much greater control over material flow and rich process information gathering for AI and analytics. It also allows material to machine communication, a huge benefit for the new generation of IoT systems.
Logiscend is the first IoT-based system to offer a true paperless workflow for manufacturing combining the reliable and visual operator instructions inherent in paper along with automatic tracking and capability for 2-way human and machine interaction with RFID. Only Logiscend combines the elements of  instruct + track + dynamic control. Manufacturers have visibility into where material is located at every moment and can redirect as needed.
JA: I guess a lot of data can be tracked through your systems. How is that managed and made useful to your customer and what actions do they typically take as result?
EN: With IIoT, data is being tracked at each stage of the process. Manufacturers can increase their visibility of bottlenecks and see other improvement opportunities. They can track key performance metrics and look at data across production lines, shifts and plants. It allows managers to see inside the black box in a way that is not achievable with manual paper based systems, enabling actions for continuous improvement. We create open databases with common query formats such as SQL.  We use efficient data warehouse structures to archive as much as seven years of production data for analytics. These data structures can be used by Logiscend or external software applications the customer may already have deployed.  Data can also be shared with suppliers and the potential is there to share updates with consumers on the status of their order.
JA: What kinds of savings can companies make through your kind of smart material system and where are they mainly found?
EN: There are several areas of cost and quality improvement that can be realized with a smart material flow management solution. Savings in direct costs by eliminating the printing of paper labels, travellers and work instructions alone can be substantial. Then there is the savings of labour costs and from improved accuracy and reducing line-down situations. But one of the biggest benefits is that it provides manufacturers added flexibility within their workflow by allowing for easy reconfiguration of production and the ability to dynamically react to change based on demand. They can be much nimbler, allowing them to win business and be more competitive in growing their business.
Company website: Panasonic Logiscend