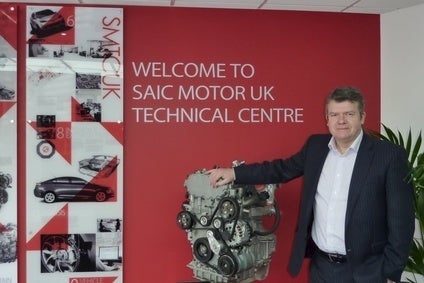 SAIC Motor technical Centre UK SMTC UK works on designing, developing and engineering advanced new vehicle and powertrain products for SAIC, one of the world's largest automotive manufacturers and owner of the MG brand. Dave Leggett interviewed SMTC UK's managing director David Lindley (part two of two).
This interview was first published in Lotus Engineering's proActive e-magazine.
Click here to read the first instalment of this interview.
How are things organised in the UK?
There are two businesses in the UK, both coming under the banner of SAIC Motor Passenger Vehicles (SMPV). The two UK arms under SMPV are MG UK and SMTC UK. We're both on the same site and work closely together. MG UK concentrates on the UK manufacturing and sales and marketing for MG product. At the moment, that's all for sale into the UK marketplace, but in the future will include sale into mainland Europe. MG UK is currently producing the MG3 and MG6 with final assembly in UK, but the plan is to expand the product range and move into new markets.
SMTC UK is a technical centre focused on engineering and design. We are fully integrated into the global SMPV technical centre activities. There are actually three technical centres as part of that. The headquarters is in Shanghai where there are 2,600 people employed currently and it is growing rapidly. The Longbridge technical centre employs around 300 and there is a further technical centre in Nanjing that has around 200 staff.
At SMTC UK we are working on the full range of SMPV global products, including both MG and Roewe. With that 300 people resource here we have a level of technical capability across the functions needed to deliver a new car. So that includes chassis, body, trim, electrical, vehicle integration, including packaging and safety, testing and validation.
On the powertrain side, we have people on engines and transmissions, and also powertrain integration. And there is also a styling function. The vision for the SMTC UK is to be the most valuable part of the SMPV global technical centre and we have some agreed positioning.
At this point in time, that means we focus on four key areas of competence.
Advanced engineering. A lot of that is about creating new vehicle architecture with a particular emphasis on second generation products, which we have been focused on for some time now. We're now moving to an architecture approach where we are trying to get greater bandwidth to support products in different market segments and that can be manufactured between different sites, with scale economies and manufacturing flexibility. It's very much along the lines of Volkswagen's MQB kind of approach.
The second area is styling, including engineering feasibility support. We have a studio in place in Longbridge which currently houses 4 full size plates, 5 axis milling and a virtual reality facility. One of the reasons for the design element at Longbridge is to tap in to the British element in the MG brand, although we are not only working on the MG brand; we are also doing some Roewe styling at Longbridge. There are 35 people in the UK design team.
The third area is engines and engine application. We have taken a global leadership role for the concept, design and engineering of two new engine families for SAIC. One was a fairly conventional small capacity engine family which includes the 1.5 litre 4-cylinder engine that is found in the MG3. The other is a larger capacity more state of the art direct injection engine family which has been developed jointly with a major European consultancy. We are looking to maintain a leadership role and focus on new engines in the future.
The fourth area is support for MG UK. That means supporting the introduction of product for Europe, local validation, local target setting, benchmarking and also supporting MG UK manufacturing and aftersales operations, to ensure quality and customer satisfaction.
And how does SMTC UK relate to other parts of the SMPV technical centre?
Since we started the business in 2005, we have become completely integrated as a function. We operate as part of a global function rather than as a separate entity in terms of organisation and operation. It's a single global organisational structure, with clear global leadership and then local leadership in the UK and Nanjing technical centres. We have adopted common policies, methodologies and procedures across the group. We have some level of responsibility for engineers that we put into the China technical centre as expatriates and vice versa. Our key focus is those four key competencies that I have described so that we are supporting global product delivery programmes in vehicle and in powertrain.
The China technical centre is the headquarters, so it is leading the strategy in all of these programmes. Our role is to provide very high value engineering skills as a fully integrated part of the process.
And is the work you do in the UK highly integrated with China?
Yes, we are leading in those four areas but we will be working closely with people in China. The advanced engineering work where we can take a lead, will also involve working in an integrated way with other engineers in China. For example, we can take a leading role in the concept layout of a new vehicle architecture, but we would also be working closely with engineers in China who are part of the same team. We will be working closely with Chinese colleagues on a daily basis, rather than, say, handing over our bit of the process when it's finished. It's a highly integrated approach to optimise the use of skill-sets and resources.
And Nanjing's responsibilities?
Nanjing is mainly responsible for manufacturing and aftersales support for the cars that are built there.
Just thinking about the domestic and international brand strategies and the products being developed accordingly, can you pick out differences in what, say, the product strategy for China and for international markets should be? Or is there a convergence in what the markets require these days?
A lot of the movement in the Chinese market has been and is towards international brands and a more premium pricing position. There's almost a two tier pricing structure in Chinese vehicle segments. So one would be, typically, lower cost domestic brands. The other tier is higher priced joint venture product manufactured locally with an international partner and brand, or imported.
There is a desire for European styling, to an extent, but there is also some differentiation. So, for example, there is still a very strong desire for a sedan-type product rather than hatchback and that applies also in small cars. In terms of design language, it's a more complex situation. Roewe, for example, we are promoting as a Chinese brand and you have to understand the whole environment, culture, history, what inspires Chinese people. Getting a feel for that is vital to understanding what sorts of design cues in a vehicle may appeal.
I would say that, generally, the Chinese market is a more conservative market in terms of how people like to see cars styled.
How is the design work within SMVP organised?
We have design studios in the UK and in China, so that we can get the right balance of influences in the cars that we are designing. The China studio is the headquarters, with 160 staff and that is a pretty big set-up. That's led by Tony Williams who used to head up the UK studio, which is now led by Martin Uhlarik, formerly of Nissan's London studio. Both studios work on Roewe and MG designs. In the initial stages, they will typically be in 'friendly competition' when we are looking at different themes. The UK studio does not work on all products, but on the ones where it is thought we can add most value.
How about communication? Is English mainly used in the technical centre?
Yes, English is the main business language within the technical centre. Obviously if a meeting comprises all Chinese participants, they'll use Chinese, but English is adopted in mixed meetings. We also have live translation at times. We do travel a fair bit, but we can use things like video conferencing. We also have a single IT infrastructure and have high-speed networks in place to ensure that communications support our high level of integration. We have common equipment policies, common software, systems and licensing arrangements wherever we can and where it is cost-effective.
We also have a proportion of our UK people working as expatriates (around 10% of our workforce) in China and vice versa and that helps build relationships and understanding. There's also a constant level of business travel for engineers shuttling between Shanghai and Longbridge, as well as travel for things like extended periods of training.
How does the whole SMVP technical centre organisation look?
There are 3,000 engineers across the three technical centres. It's organised by technical areas of competence, so there is chassis engineering, group trim, group body, electrical and so on. The other side of that matrix is vehicle line teams, which include engineering programme management and chief engineers for each of our main product lines. Within each function, whether a technical area or a product line function, there is a global director, usually based in China. And there is a vice director who is usually based in UK. Their joint objective is to work together as a team to maximise the value and synergy of the global resources that they have available. They are also jointly tasked with looking at capability building, including recruitment and training in their respective areas. They both have to think about the whole picture, UK and China. And they are both responsible for providing technical direction to their team and the success of that direction.
And your role specifically? What does that involve?
My primary role is managing director for the SMTC UK; that takes up 95% of my time. As part of that I am also a vice-president of the global engineering function's technical committee, which acts as a kind of board for the technical centre.
I take part in regular reviews of the engineering strategy for everything we are doing. So that's looking at things like strategies for capability build, facilities investment. I take part in a weekly meeting specifically as part of that and that can last 3-4 hours.
I am also involved in other global meetings that involve major projects and important parts of our work at SMTC UK.
In addition, I have responsibility for developing advanced engineering within our global business, which can mean looking at how we work on things like creating new vehicle architectures.
I have a small level of responsibility for MG UK. I get involved with UK product manufacturing quality. And in the UK I am also directly involved with managing the whole operation, the facility, how we maintain and develop our capabilities in every sense.
How many ex-Rover people do you have?
Initially, it was high because of how we came into being. It is changing though. We are gradually bringing in more people from other OEMs, Tier 1 suppliers and also more people from mainland Europe. The broadening is a positive thing, helping to bring a bit of a change to the culture we have. We now probably have around 50% of our staff as having worked for MG Rover or PTL.
How do you see the future for SMTC UK?
It's pretty positive on the basis of how we are planning to expand, both into new geographical territories and with more product, which will create increased demand within SAIC for the work that we can do. The more we sell around the world, the greater is the case for a substantial element of local engineering. So what happens in the European marketplace is obviously key for us.
I think we'll probably be involved in more advanced design work for MG, really looking at its design DNA and how trends are moving in the European marketplace.
We'll be increasingly looking to be creative and 'leap frog' rather than be fast followers of technology. We'll move more heavily into the research side. On powertrain I expect we'll be working on advanced propulsion technologies.
A lot of our philosophy is to do things ourselves, own the technology rather than partner up. We have been through some pain on electric vehicles and hybrids, for example, and that learning on first-gen products puts us in a very good position for the future.