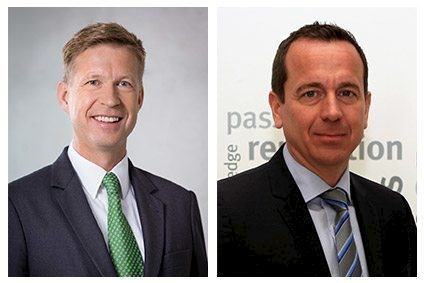 Continuing just-auto's series of interviews at the 2015 Equip Auto show, Matthew Beecham caught up with Dr Robert Felger, Senior Vice President Product & Marketing, Schaeffler Automotive Aftermarket and Stefan Knaack, Vice President Western Europe, Schaeffler Automotive Aftermarket Market / Distribution. Schaeffler Automotive Aftermarket is a specialist supplier of components and services around the drive train in passenger cars and commercial vehicles: from the engine over the accessory drive and the transmission to the chassis. The worldwide automotive aftermarket sales business of the LuK, INA and FAG product brands and dealer brand Ruville is run by Schaeffler Automotive Aftermarket based in Langen, Germany.
What is the main message that you would like to put out here at the Equip Auto show?
Robert Felger: Our main message that we want to convey is that Schaeffler supply intelligent repair solutions that meet the market needs. These are specifically tailored to the workshop needs.
How is your European aftermarket business shaping-up this year?
Stefan Knaack: Our business in Europe is doing very well. We have spent years in developing and supporting independent workshops. In doing so, we have created a pull effect for our products. We are well prepared for the future considering the changes in the market place.
Could you sum up how Schaeffler has benefited from the EU Regulation S66/2011 whereby manufacturers are obliged to release electronic data enabling the exact identification of replacement parts for vehicles?
Stefan Knaack: While this has been a major change in the market place, it is not yet complete. So while this Regulation is helping the independent automotive aftermarket, the way in which it is being realised is not yet up to the final point. What we see is that the whole industry is working to get most out of the environmental change and we are looking positively into the future impact.
We understand that Schaeffler wants to increase its aftermarket revenue contribution from 15 to 20 percent over the next few years. Could you add a little more about your plans to achieve that?
Robert Felger: The automotive aftermarket is a valued business of Schaeffler. We are set for growth but, more importantly, will benefit greatly from new products that Schaeffler are launching on the OE [side of the business]. Hence it is our job to bring these to the automotive aftermarket. In general, our strategy is to serve with our overall product portfolio all markets on the globe. Clearly, in more established markets we enjoy a larger share of aftermarket business pertaining to the overall automotive business whereas in emerging countries we have yet to see what happens. In countries such as India and China, we are still looking at a very young vehicle population. The average age of vehicles in China is still only 4.5 years hence the independent aftermarket has yet to come. So we shall see a lot more maturity in the future.
Looking at the distribution channels in Europe, what are the big changes you are seeing at the moment?
Robert Felger: We currently experience in Europe a huge consolidation phase on all levels of the value chain, especially at the distribution level with investment coming from private equity funds.
Our monitoring of the industry shows more and more of our customers joining an international trading group. We have excellent relationships with all of these trading groups which will help us to grow our business in the upcoming years.
To what extent are the web-based distributors growing their share of the European aftermarket?
Robert Felger: A few years ago, we began to see something of a 'Wild West' scenario, especially in Europe to the point that more and more online shops appeared to be selling spare car parts. That has calmed down today. Although some players have established a considerable network, a number have since disappeared. Today online shop players tend to offer easy-to-fix products, supplied by the traditional channels. So we can expect these players to grow. How this relatively new channel will fit at the end into the big picture is not yet clear. We expect to see some changes and consolidation in the future.
How do you engage with your customers in this digital age?
The remainder of this interview is available on just-auto's QUBE Global light vehicle transmissions and clutches market- forecasts to 2030