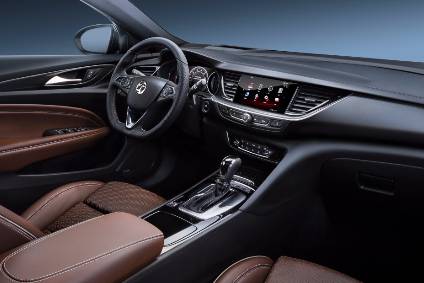 Continuing just-auto/QUBE's review of interior design and technology trends, we borrowed the new Vauxhall Insignia Grand Sport to take a closer look and got the inside story from Stefan Arndt, Adam Opel AG's chief interior designer.
Lightweighting
The redesigned D-segment Vauxhall Insignia Grand Sport is a good deal lighter (by 175kg) than its predecessor thanks to optimised packaging and the use of lightweight materials. Its lighter weight is also due to the fact that it uses a platform that shares weight-saving principles with the latest Astra. It is the first Vauxhall with an active aluminium bonnet thereby improving pedestrian protection.
In the UK, the Insignia is offered in seven trim levels, starting with the Design moving up through the Design Nav, SRi, SRi Nav, Sri VX-Line Nav, Tech Line Nav and range-topping Elite Nav. Our Design Nav came with 17-inch bi-colour structure wheels, automatic bending LED headlights, and keyless entry and start. A leather-covered multi-functional, heated steering wheel and onboard strong wi-fi added to the pleasure of living with the Insignia for a week
Spacious interior
The Insignia's extended wheelbase results in a more spacious interior.
The Insignia's extended wheelbase results in a more spacious interior. Vauxhall points out that rear passengers have 32mm more room at hip height, 25mm more shoulder and knee room and 8mm more headroom. When the split rear seats are folded flat, luggage space increases from 490 litres to 1,450 litres.
The instruments stacked on the centre console are slightly angled toward the driver and set within easy reach. Positioned centre stage is a frameless eight-inch colour touchscreen of the Navi 900 IntelliLink infotainment system that comes with Apple CarPlay and Android Auto phone integration. The touchscreen itself replaces a myriad of buttons found on the previous Insignia. We also liked the shallow shelf that spans the base of the touchscreen thereby providing a place to steady your hand while navigating the menu.
In our opinion, the Opel/Vauxhall brands offer materials and build quality from Opel's Russelsheim plant on a par with the rival German premium brands. The Insignia's instrument panel and centre console is supplied by Faurecia. Vauxhall is also still one of few automakers to offer seats certified by Aktion Gesunder Rücken (Campaign for Healthy Backs). These ergonomic seats offer a combination of side bolster settings, massage, memory and ventilation functions.
Laminated side glazing
We are seeing a clear upward trend for laminated side glass.
For some time, Europe has led with the adoption of laminated side glass for increased vehicle comfort and security. The first North American vehicle with laminated side windows was launched in 2002 with market demand catching-up Europe. Today, from just-auto's research database QUBE on glazing technologies, we are seeing a clear upward trend for laminated side glass, especially for front door applications due to the acoustical benefit that comes with that value-added product. The Insignia that we took out for a spin came fitted with optional front side laminated windows, supplied by Fuyao. Laminated glass provides a three-to-six decibel noise reduction over tempered glass.
Laminated side glazing has other benefits that go beyond cabin noise. The use of laminate greatly reduces penetration of UV rays into the vehicle while safety and security are also considerations for carmakers.
While the laminated side windows in the second-generation Insignia certainly supports a quieter ride, it also helps you appreciate the seven-speaker (five front and two rear) Bose sound system.
Advanced driver assistance technologies
Magna supplies the front camera system on the Insignia.
The front camera system on the Insignia, supplied by Magna and marketed by them as the EYERIS electronic vision system, incorporates features such as lane keep assist, following distance indicator, forward collision alert, low speed collision mitigation braking and active emergency braking.
Magna's EYERIS system has also launched on Chevrolet/GMC vehicles in North America and Daewoo vehicles in Korea, with several additional GM brands launching in the future, including Vauxhall's Mokka SUV and Astra VXR, which made their world debuts at the 2012 Geneva motor show.
The Insignia also comes with three other important driver assistance technologies, namely a rear cross traffic alert, forward collision alert and advanced park assist.
The rear cross traffic alert system uses radar sensors in the rear bumper to detect objects coming from up to 20 metres at 90-degrees from the left or right side behind the vehicle, making reversing out of driveways or parking spaces that little bit safer.
As the name suggests, the car's forward collision alert helps the driver to avoid or mitigate the impact of a front-end collision.
Parking the second-generation Insignia is easier too thanks to its advanced park assist function. Ultrasound sensors on the car's front and rear bumpers do the trick here by identifying suitable parking spaces and detecting possible obstacles.
Connectivity
Up to seven mobile devices can be connected to the Insignia's wi-fi 4G/LTE hotspot via OnStar.
The Insignia Grand Sport also offers a new OnStar concierge service that allow occupants to book hotel rooms and search for suitable parking spots via an OnStar advisor. This latter feature worked a treat when we contacted an advisor for directions to the most suitable car park and had the exact location sent directly to the car's sat-nav system within a couple seconds of ending the call. Up to seven mobile devices can be connected to the car's wi-fi 4G/LTE hotspot via OnStar
Hot technologies
Our Insignia featured a button on the centre console to defrost the windscreen and another to heat the front seats and steering wheel. The front seat heating function may also be operated via the touchscreen. By switching on the heated rear window, the heated wing mirrors are automatically activated.
Although our Design Nav model did not feature it, Insignia is offered with a parking heater. Supplied by Webasto, it can be activated in advance by remote control, and programmed to run for a certain amount of time. Alternatively, you can store a desired drive-off time.
IntelliLux LED matrix headlights
While our focus is on the Insignia interior, we felt that the nitty-gritty technologies behind the headlamps, all-wheel drive (AWD) system and steering are also worthy or note.
The IntelliLux LED lighting feature new functions, including curve and spotlight illumination, that improve long-range visibility when driving at night. For example, when taking a curve with the full beam engaged, the light intensity automatically rises based on the steering angle, in order to increase the illumination and help you to see the road situation ahead. First shown on the Monza concept in 2013, Opel/Vauxhall introduced IntelliLux LED matrix headlights in the Astra in 2015. Initially featuring a 16-light system, the automaker has been able to develop the technology significantly with the second generation, incorporating twice as many LED segments while maintaining an ultra-slim appearance. Gentex's so-called SmartBeam HBA (High Beam Assist) automatically turns on a vehicle's high beams when it's dark enough and no other vehicles are present. The system is already in production with well over one million units sold. BMW was the first carmaker to introduce it in Europe in 2005. Audi and Vauxhall have both since introduced the technology, the latter on the Insignia.
Torque vectoring supplied by GKN –
GKN Driveline is supplying its so-called Twinster torque vectoring AWD system for Insignia Grand Sport. "Our work with Opel marks the first time that Twinster's intelligent torque vectoring has been offered in the mid-size sector in Europe," said Peter Moelgg, CEO of GKN Drivelines AWD product line. The twin clutch rear drive module is claimed to be more compact than conventional rear differentials and is lighter and less complex than other torque vectoring systems. The supplier works with OEM customers to tailor the hardware and software for each application. Previous configurations of the technology have been fitted to the Range Rover Evoque/Land Rover Discovery Sport platform, the Lincoln Continental and MKZ, Cadillac XT5, Buick LaCrosse and the Ford Focus RS.
-and the steering system by Nexteeer
On the road, our entry-level 1.6-litre (110PS) turbo diesel ecoTEC model floated along some of Britain's busiest motorways, returning a real world average of 61 mpg. Its sharp steering system is supplied by Nexteer from a factory we once visited in Tychy, Poland. In addition to the Opel/ Vauxhall Insignia, Adam and Corsa, this Polish facility produces some 3m steering systems annually for models such as the BMW i3, 1 series, 2 series Active Tourer, Mini Cooper, Alfa Romeo MiTo, Fiat 500, Citroen C3 and DS3.
Q&A with Stefan Arndt
To find out more about the new Vauxhall Insignia interior design and technology, we spoke to Stefan Arndt, Adam Opel AG's chief interior designer.
Could you tell us about some of the interior technologies of the Insignia that strike you as particularly novel?
The technology that's available is one thing but the underlining story is that we have made this car more efficient [with] cooler proportions. It is lower, longer and looks sportier than the old car. All of this should, therefore, be reflected on the inside as well. Our design philosophy – sculptural artistry meeting German precision – [means] a good mix of sculptural landscapes, sharp lines with some crisp mechanical details. Hence the detail of the headlamps and wheels give the car a sporty appearance and this should be reflected in the interior.
I, therefore, wanted to achieve this in a number of ways. First of all, the Insignia is very spacious at the front and rear, with extra width, head and knee room. The interior has sculptural and flowing lines. Second, I wanted to make it very lightweight visually. So, for example, the upper instrument panel is designed to make it appear as if floating. It is a really thin floating piece where you have only the essential technology on display, eliminating buttons wherever possible. So my main mission here was to make the instrument panel appear lighter and less cluttered. And then, of course, spice it up with craftsmanship.
With more voice control and a touchscreen?
Yes. You can talk to the Insignia, use the touchscreen and steering wheel controls to operate certain functions. We have a rule: eyes on the roads and hands on the wheel. That has been the Vauxhall design philosophy for a long time, and it really is expressed in the Insignia. So the screens are elevated and easy to reach hence anything that you want to operate for safe driving is reachable in less than two seconds. We don't have many sub-menus which means you have the right amount of buttons left.
"We have been careful to reduce the number of buttons but also organise them in functional layers."
Above all, the main story for the interior of the Insignia is its flawless intuitive operation. We have been careful to reduce the number of buttons but also organise them in functional layers.
On the top layer in front of you is the instrument, and [in the centre] is a 7- or 8-inch TFT colour touchscreen. Compared to the previous Insignia, this one is now perfectly angled – by some 8-9 degrees – towards the driver thereby providing less reflection and perfect reach.
On the second layer is a thin audio panel with a central volume dial and hard buttons on either side allowing you to scroll through radio channels. This is all you need as the rest can be controlled via the touchscreen.
The third layer is the climate control panel, including buttons to operate the windshield heater, rear window demister, seat heater and so on.
Then last but not least all the customers' wishes for chassis is around the gear shifter, intuitively laid out.
Does that sense of intuitiveness carry across to the increasing use of shared cars?
I think there is probably everything you need to drive, and certain functions in the future will be taken away from the driver. It just needs to function. In future shared cars, it's all about infotainment and keeping control.
I guess when designing the next generation model, there is always a balance to be struck in terms of how much is carried over from the previous generation and how much innovation is added. How did you address that with the interior of the Insignia?
With Opel/Vauxhall customers we appreciate that there's a certain loyalty to the brand [hence we are mindful] of keeping as many parts as possible in order to make it easily recognisable. We also want to attract new, younger customers [who typically opt for] other brands. While we are not really a premium brand – and we don't try to be – we are using our [interior] design to appeal to new customers. If we can achieve that then our loyal Opel/Vauxhall customers will conclude: 'Yes, that's new but I still love [the Insignia] as there's enough there of what I used to know.'
We often hear about comfortable front seats but are there any creature comforts for back seat Insignia passengers?
"We have also introduced rear seat heating as an option on the latest Insignia."
Sure, I can give you the dimensions. In the rear, the Insignia offers 8mm more headroom, 25mm more knee room, 25mm more shoulder room and 32mm more hip room. All of that feels really a lot more generous. We have also introduced rear seat heating as an option on the latest Insignia.
Mirrorless cars are on the horizon. Is there a trend for more than one display on the centre console?
How many displays does one need to drive or how many displays does one need to be entertained? In the edges you can see [another screen] as your rear view camera instead of the rear view mirrors which is aerodynamically favourable.
I think we will have more or different kind of screens. Then again when the cars are more autonomous, the question is: how many screens do you actually need? Because screens are often ways of interacting with your car but if your car is really smart you don't need to. In the meantime, we could see more split screen technology. Longer term, the windshield could be used as a means of displaying information.