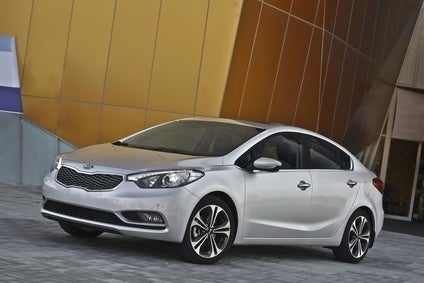 When Kia opens its new factory in Mexico next year it will have all the production capacity it needs for its short- and medium-term new model plans, says the company's vice-president of overseas marketing, Soon Nam Lee.
That means no entry into the Indian market in the immediate future and no expansion of the company's European and North American footprints at the Zilina, Slovakia, and West Point, Georgia, plants.
Kia is in the midst of a programme to add 72 new or facelifted models in the period up to 2018, including entries into four new sectors with a B-segment SUV, a dedicated crossover-style hybrid, a first estate version of the Optima and a four-door sports coupé.
But with the addition of what will eventually be an extra 300,000 units of capacity in Mexico, Lee says Kia will have its requirements catered for.
"Mexico will produce the Forte/Cerato first and then we will add one more car," he added. Around 20% of the output from the plant at Pesqueria, near Monterrey, will be for the Mexican domestic market, with the rest going to boost sales in the US and Canada and give Kia tariff-free access to important South American countries like Brazil."
That, in turn, will free up more capacity at the company's four Korean plants (Sohari, Hwasung, Gwangju and Seosan) for production of the four major newcomers, pushing the company's total manufacturing capability up to around 3.4 million units a year.
Parent company, Hyundai, has "a long history of making cars in India", said Lee, "but at this moment we have no concrete ideas to enter the Indian market. For the time being we are focusing on the [Korean] domestic market, China, Western Europe, the US and Mexico.
"There is no plan to increase production capacity in Europe. All KME [Kia Motors Europe] wants is more Sportages." An all-new Sportage is due to go on sale late this year and early next.
Lee said that although Kia has a plan to increase global sales volume and profitability every year until at least 2018, an equal priority was to attract more high-profile, younger, better-educated and high-income customers. To achieve that there will be a greater number of range-topping GT models.
The GT treatment has already been applied to the European-made three- and five-door Cee'd range, and will feature on the new Optima next year. The Rio and Sportage are other candidates to be given the sporty GT treatment in time, Lee said. With this in mind, the recruitment last year of Albert Biermann from BMW's M division as chassis dynamics guru is seen as crucial.
"We are targeting the Volkswagen Golf GTi image with our GT models," says Lee. "Hyundai's N cars [the sub-brand was announced at the Frankfurt Show last month] will be more premium. This is something we will need to communicate with our customers."