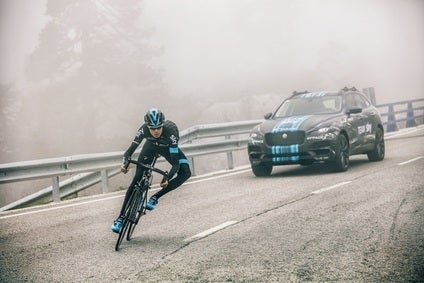 The Frankfurt motor show will be the launch pad for a very important Jaguar, the F-Pace SUV, vital for the brand in the US and Chinese markets, and a car chief designer Ian Callum "swore I'd never do".
"Designing Jaguars and the Aston Martin DB7 before that was not difficult for me because it is what I always wanted to do," said Callum, head of design at Jaguar since 1999.
"The F-Pace was a challenge because it is not a natural place for me after doing sports cars all my life. It is fundamentally a Jaguar – we had a few shots at it and the first sketches were quite generic before we got into Jaguar mode. The production model is very close to the final concept."
He added: "The F-Pace will be particularly important for us in the US where SUVs have really taken over from wagons [estate cars]. It will also give us more products on the road. It is very difficult to compete with Audi, BMW or Mercedes Benz there because they have so many models on the road. Perception deficit is still an issue for us."
Callum said his 16 years at Jaguar has been a roller coaster ride.
"It was rather daunting to realise that I was in charge of the brand's future and that I had stewardship of something important. Under Ford management Jaguar was not right and I had the somewhat naive vision that I could fix it.
"It wasn't modern and it wasn't cool like the brand should be. I thought it would take 10 years to get it right and 16 years on we are just about getting there."
He admitted his ideas did not meet with too much management approval from his Ford bosses.
I think I was also something of a shock within Jaguar and there was this constant fear over whether you were doing the right thing. It's difficult to measure design. But we have got there with cars like the XF – which never dropped off in sales numbers right through its production life, staying steady at just under 40,000 cars a year – the F -Type and and the F-pace, a crossover, the car I swore I'd never design. That said, it has worked out better than my expectations."
The new XF, Callum said, would be somewhat more pragmatic.
"There needs to be more room in the back because that's what our customers are telling us, particularly in China."
What does the future hold for Jaguar?
Callum said: "A slight change in style and a more eclectic mix of vehicles and we will continue with aluminium construction technology. We need to push the boundaries on lightweight materials such as aluminium. From a design point of view you cannot get the same sharpness as you get with steel but in terms of weight reduction it is fantastic.
"There is also a lot of potential in reducing the weight of seats but, in the modern car, safety equipment is the biggest contributor to weight. We need to get mass out without compromising safety.
"In terms of exterior design there are still things we can do with aerodynamics to improve efficiency. Over the next five or six years I think we can achieve 0.2 drag coefficient by managing air better with moveable aids much like they do on Formula One cars."
Is he thinking as far ahead as designing autonomous cars?
Callum said: "I am not sure I will be around by the time autonomous cars are the norm but I do think we need to understand electrification better along with connectivity and how the car communicates with the rest of the world.
"Inside the car we need to find better ways to interact with touch screens – somewhere to rest your hand while operating the screen for example. Currently you have to stab at it and at 60mph [100km/h] on a motorway you maybe only get one shot at it. For sure, connectivity should not change the excitement of a driving a car.
"I have no idea regarding how the attraction or pride in owning a car will work in the future. There will be a transition period before we have fully autonomous vehicles and so, for a while, control systems will stay pretty much as they are today. We know there will have to be changes but it's difficult now to know exactly what to do.
"Electric vehicles will change the profile of cars as soon as manufacturers accept the fact they are electric and don't necessarily have to follow convention – I'd quite like to do one, but that's not to say it will happen at Jaguar. Autonomous cars are a big story but there are a lot of other big things that will have to happen first."
The car he said he was most proud of designing is the F-Type Coupe but he also has a lot of pride in the DB7 "because we did not have a lot of resource to work with".
He added: "We have a very good team at Jaguar and I am always looking for new talent coming through but what the design schools need to teach is that styling isn't everything, there is not enough thought process in terms of industrial design being instilled in students.
"Style has to be compatible with function and the production requirements."