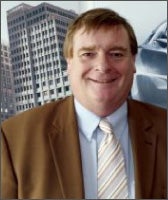 Bob Joyce heads up engineering at Jaguar Land Rover (JLR). just-auto's editor Dave Leggett caught up with him on behalf of Lotus Engineering's e-magazine proActive
DL: What are you busy with at the moment?
BJ: We're spending a lot of time on our future product portfolio. We've been busy with launches in the 2010 model year and then we have a whole new portfolio of powertain, hybrid and vehicle technologies for the next five years. Next product launch though is the new XJ which we are very excited about.
DL: So how does your time break down generally?
BJ: It is generally spent doing technical product reviews as well as selecting and developing key technologies that are critical for Jaguar Land Rover's product portfolio.
DL: How big is the department and how is it structured?
BJ: I'm head of Group Engineering for JLR which is circa 2,400 people. It's organised as a single engineering function in the component system areas.
We matrix into our product programmes which are led by chief programme engineers and are separate for Jaguar, Land Rover and Range Rover. We then have vehicle line directors for Jaguar and Land Rover to make sure we develop the brand DNA and exploit the brands' business potential.
We also have separate design directors for Jaguar and Land Rover.
Behind the scenes we are trying to drive – where appropriate for the brand and the customer – technologies that can go across both brands.
DL: Things like shared powertrain technologies?
BJ: Yes, the most obvious examples would be powertrain and infotainment technologies. For the 2010 model year we've actually got the same family of V8 petrol and V6 diesel engines and gearboxes across all of our north-south Jaguar Land Rovers.
It's important that both brands can share the critical mass of technology development where appropriate.
But we ensure they are developed to meet the very different needs of our brands.
DL: Have you seen changes to the engineering department that reflect changes of company ownership?
BJ: Ownership doesn't really impact the way engineering operates. Most engineering operations have to work to a certain formula to deliver the required efficiencies and effectiveness. We do work with Tata Motors where there are areas of synergy on component systems.
DL: Is there much working with Tata Motors?
BJ: It's clearly limited because our existing product portfolios are very different, but who knows where future areas of synergy may be? We will obviously work closely with Tata Motors wherever we see opportunities to exploit synergies.
DL: What do you see as the main engineering challenges ahead for JLR and indeed the industry generally in the premium segments where JLR operates?
BJ: I think the single biggest challenge facing the premium car segment is its response to the environmental pressures. There will clearly be a move towards greater hybridisation and electrification, but also a strong drive towards more fuel-efficient vehicles without a need for the expense of electrification.
All of that clearly has to be done within a business model that works and maintaining the delivery of products to the customers that are still desirable and meet their needs.
So there's a challenge to keep the DNA – beautiful, fast cars for Jaguar, the finest all terrain vehicles for Land Rover – and still meet the requirements for the future to make the products relevant and affordable.
But I think the environmental pressures and the changes to powertain technology that will inevitably come in the next ten years probably amount to the single biggest change that I'll experience in my life in the automotive business.
DL: When might we see the first JLR hybrids?
BJ: We're on a timescale that is consistent with that of our major competitors. In the not too distant future, that technology will roll out. We have already recently produced a technology demonstrator range extended hybrid XJ called Limo Green.
DL: Do you see any other big strategic issues on the product side?
BJ: The growth of consumer electronics in the vehicle is phenomenal. We've launched XJ with a state-of-the-art integrated audio module with all of the key technologies in one unit. The processing power is phenomenal. Infotainment requirements are being consumer led.
Electronics requirements in terms of safety, chassis, powertrain and electrification – that's about the relentless drive for higher capacity, faster response and more reliable electronics systems. That will continue to be a major thrust for us.
DL: What about vehicle weight and keeping that down?
BJ: Weight is always a key priority. If you look at the new XJ it's the lightest car in its segment. We have already made the commitment to use new lightweight technologies in our next-generation SUVs. Achieving body structure weight targets is critical, but there is a lot of integration opportunity, too. If you can break five or six separate modules currently doing audio, navigation, Bluetooth, phone, digital radio and so on and put them into one unit you've got downsized capacity and lower cost.
So there is a need to maintain the features that people want, but at a weight that is manageable and affordable. There are ways through that.
DL: And on the materials side, do you see a bigger role for aluminium, for example?
BJ: We have been committed to aluminium on Jaguar saloons and sports cars and we have made commitments that we will see that technology rolled out onto Land Rover in the foreseeable future.

We have high competence with aluminium and we can see the benefits.
Often the light weight means we can avoid the cost of more complicated technologies, particularly chassis technologies which may be required to compensate for the heavier mass of the vehicle.
DL: Can you describe how the new XJ was designed and engineered?
BJ: It was a team of about 300 or so engineers and designers over roughly a three-year period. We have benchmarked Japanese competition and believe that's a pretty competitive timescale.
For much of that period we were, of course, still owned by Ford, so were operating to their product development process. All the engineering work was done in a synchronised and compatible way 18 months before job 1, which used a lot of virtual engineering up front and we only had to use prototypes in critical areas where CAE cannot yet fully optimise the car – final dynamics tuning and wind noise, for example.
DL: Was that product development process on the XJ new for JLR?
BJ: No. We piloted the process on the XF saloon, two years earlier. We learned from that. Our 2010 model year programmes launching new petrol and diesel engines into Jaguar and Land Rover vehicles were done in the same way. So this is our first full application of the system that catches the learning from these previous projects.
DL: And you'll use the same system in the future and try and drive the development time down further?
BJ: Yes, it's in place for future products and we'll look to continue to make progress on driving improvement, but robustness of delivery is key. The development of virtual tools and deciding the structure and content of programmes is also a key enabler.
DL: What about virtual tools? How important are they compared with more traditional engineering methods?
BJ: Virtual tools are absolutely fundamental to where we are. There are some areas where they can't go because the science isn't there yet. But for every vehicle attribute, there should be an engineering target that can be laid down for it and virtual tools, once proven and demonstrable, are by far a more accurate way of developing a car.
We've seen that in crash analysis. People said we'd always have to crash cars. There are still legal requirements for physical crash tests which we of course comply with, but we have more confidence in the virtual tools because of the stochastic nature of the physical crashing versus using virtual data. It's the same with dampener tuning and ride handling. It can all be increasingly done with proper engineering techniques in the virtual world.
DL: So you see a growing role for virtual engineering?
BJ: It is absolutely fundamental to our future success and speed to market.
DL: Changing the subject, what are the main developments coming in all-wheel drive transmission technology on Land Rovers?
BJ: In terms of the drive technology we will be looking to reduce parasitic losses and give more flexibility on the move. There's also an awful lot of traction and other off-road technologies that mean our cars become more capable and the customer has to do a lot less configuration in tackling difficult terrain and handling it in a very robust and compliant way.
DL: More two-wheel drive?
BJ: I think we will see a movement in some parts of the market towards more two-wheel drive for SUVs.
This interview was first published in Lotus Engineering's e-magazine proActive.
Bob Joyce – Group Engineering Director of Jaguar Land Rover
Bob has been in the automotive business for 20 years and has over 27 years of engineering experience. After graduating in engineering from Leicester University, he began his career at Ricardo Consulting Engineers working on fundamental research into automotive diesel engines.
He progressed to lead a programme on combustion chamber development for large bore natural gas engines before moving to America for Dresser Industries USA. In this role, he led the development of a new family of diesel/lean-burn petrol engines, with six to 16 cylinder configurations.
On moving back to the UK in 1986 he was placed at Rover, undertaking a range of Senior Engineer positions, including Chief Engineer of Rover's K-Series engine family, Director Gaydon Technology Centre, Director Rover Body & Pressings and Body Engineering Director of the Rover Group.
In 1997, working for BMW, he became Senior Vice President for FWD platforms, including MG Rover and the new Mini, taking the latter

programme from initial approval to engineering sign-off.
Bob was appointed Group Engineering Director for Jaguar and Land Rover in 2003 and has since then overseen the creation and delivery of a range of new vehicles, including Range Rover, Discovery 3, Range Rover Sport, Freelander, Jaguar XK , Jaguar XF and the Jaguar XJ.